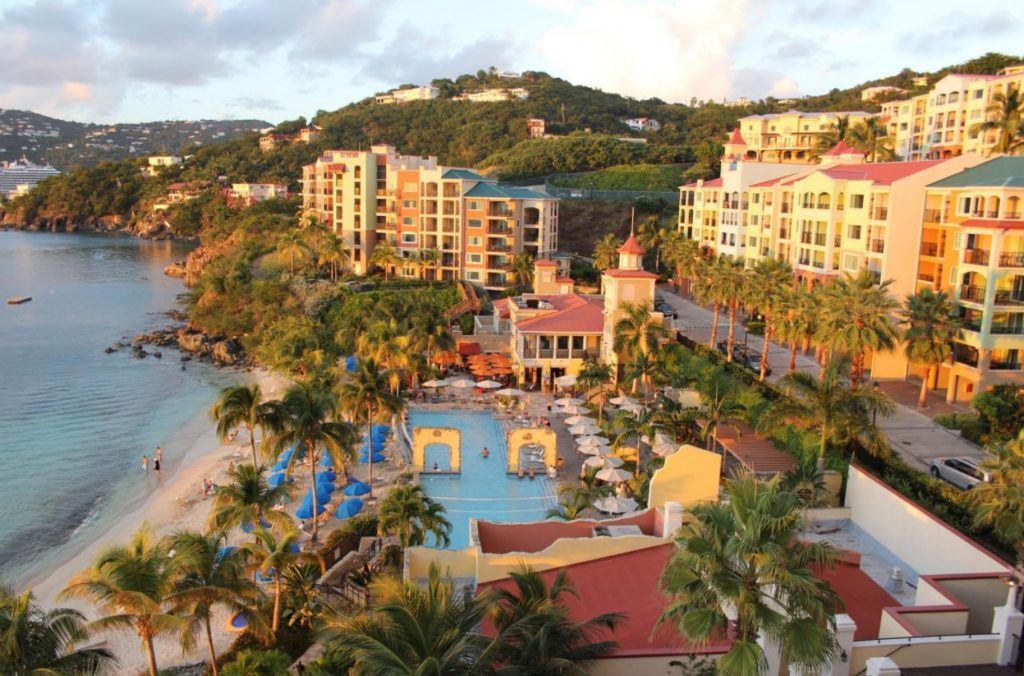 So you've got your reservation! There are some things you can do BEFORE you arrive to help ensure you have a fantastic experience.
About 2 weeks before you arrive, I recommend you call the resort and request the room/building you want to stay in, if your location is important to you. You should receive an email from Marriott asking you for your room preferences. I always respond to that, and still usually call. For our trip last year to the Ritz in St. Thomas, I responded to the email AND called, and got both preferences – high floor and best view. This time staying at Frenchman's Cove, I responded to the email, but did NOT call. I got my first priority request – Tortola Building – but did not get the 2nd request – high floor. It was still an excellent view, but I couldn't help but wonder if I would have gotten both requests if I would have called.
What's the best location for your room??? Here is a map of the resort.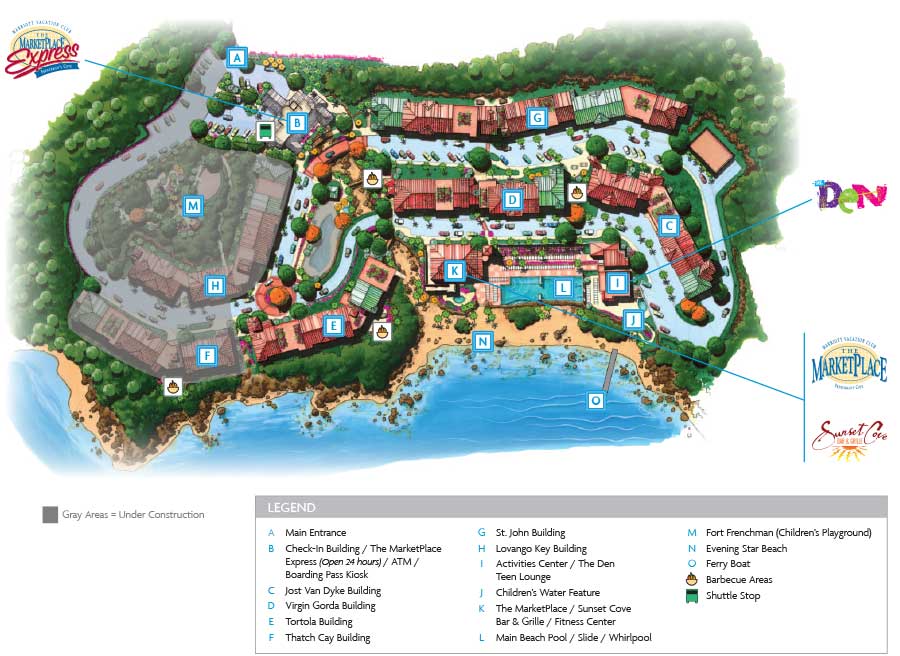 We were there in April 2023, and no construction was under way on the gray areas of the map – it was undeveloped. There WAS construction on the side closest to the Westin, and jackhammers and saws could be heard throughout the day. We were on the opposite side of that construction and wasn't affected in any way with the noise. For the BEST view, in my opinion, request the Tortola Building, high floor. We have stayed in the St. John Building and it was fine. Be aware that the elevation changes greatly, and the further away from the beach you are, the higher you have to climb to get to your villa. You can "elevator hop" between buildings to get you to the top to help with that.
To rent a car or not rent a car. We've been there without a rental car and with a rental car. Uber and other ride shares are not allowed in St. Thomas. Only taxis, which consists of vans, or open-air trucks, like pictured below, are everywhere and easy to find. The price is per person, usually around $10 one way, depending on where you are going. Or you can pick up your rental car at the airport (check-in at the airport), and walk across the street to a parking lot to find your waiting car.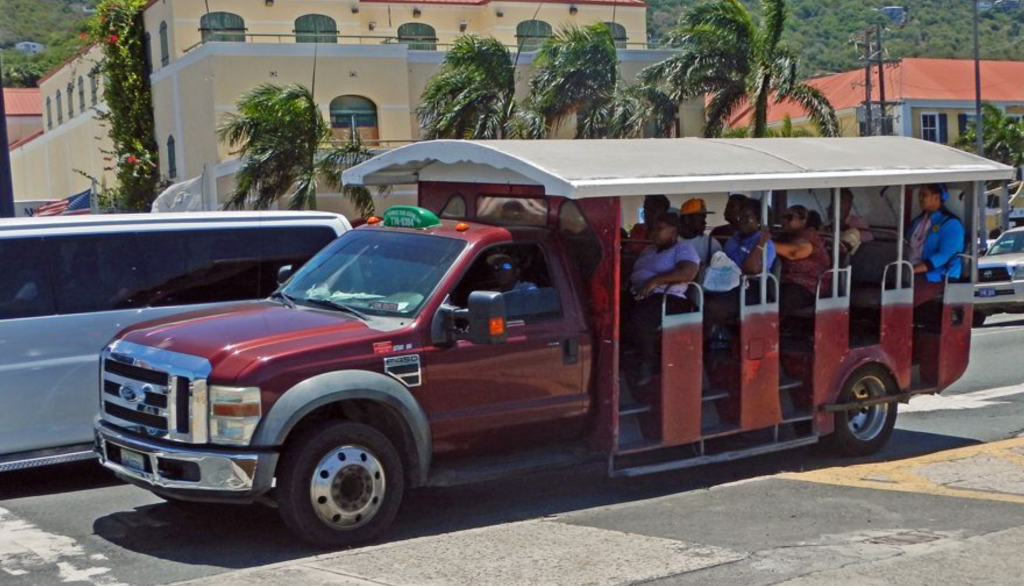 The biggest obstacle to remember every time you drive, is to stay on the left side of the road. The entire week we were there, we kept chanting "stay on the left side" every time we took a turn. We had no issues – even finding parking in Charlotte Amalie wasn't an issue. According to the locals, if you find a parking place you can stay there all day, even if it says it is 1 hour parking only. We didn't stay all day, but more than a couple of hours, and we weren't ticketed.
Bottom line – if you plan on leaving the resort more than a couple of times and there are more than 2 people in your party, you will save money if you rent a car.  It's nice having the flexibility of going where you want to go, when you want to go and not worrying about arranging your transportation. 
Items to make sure you pack.  BUG SPRAY!!  It's a must anywhere for anywhere you go on a beach in St. Thomas.  There are these teeny, tiny bugs (some people call them "no see'ems) in the sand that non discreetly find their way on your legs, arms, hands – anything near the sand – and bite you. You don't feel it, which is what makes them such a nuisance.  Last year when we went, we didn't use bug spray, and I had an allergic reaction to the bites that drove me insane with the itchiness.  I literally told my husband to take me out to the back pasture and shoot me.  This year, we went prepared and sprayed bug spray on whenever we went to the beach.  I only got 1 small bug bite – no issue at all. 
Groceries. You can have groceries delivered after you arrive, if you want. Since we had a car, we picked up what we wanted ourselves. When we stayed at the Ritz, we did not have a car, and had groceries delivered — it was wonderful! Depends on your situation for sure! The marketplace at the resort has expensive prices, but works if in a bind. We went to Moe's in Red Hook. Great selection. There are other places closer – you can find them on your map.