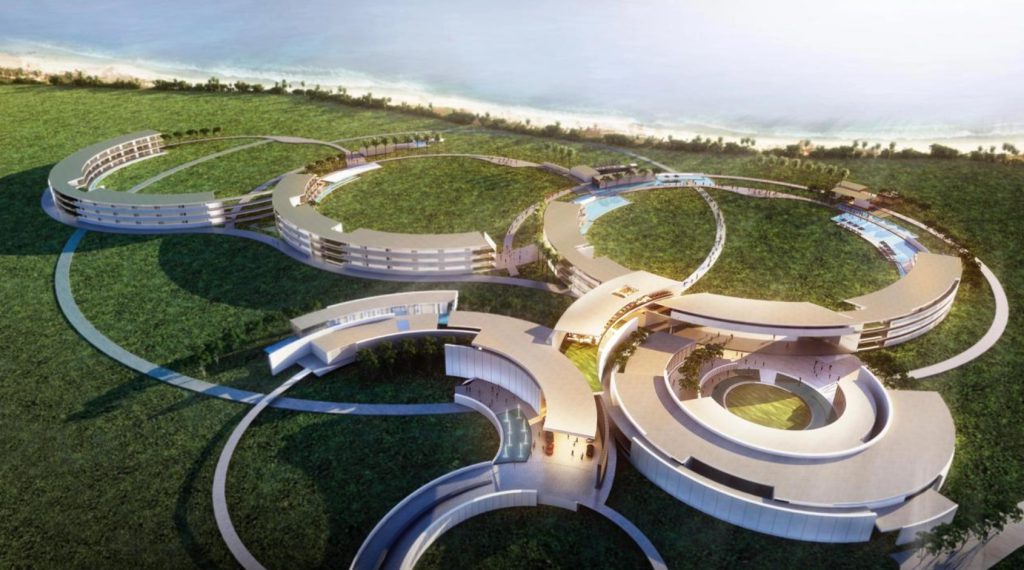 It was about a year ago that I first posted about this resort opening in December 2022. On the Marriott website, it states the opening will be in February 2023. But no reservations can be made until April 30, 2023 — and these rooms aren't cheap. How about more than $1700 a night!! And I'm not talking a Suite or multi-room villas. I'm talking about 1 room with 2 beds, Oceanview Balcony — $1749 a night!! Ouch!! If you want to deplete your Bonvoy points, it takes 120,000 Bonvoy points a night.
Now that you know what it takes to stay here, let's talk about the complex the St. Regis Kanai will located it. There isn't much on the Marriott website. All pictures are of the restaurants, which were posted over a year ago. You can check those out in my last post.
St. Regis Kanai in Mayan Riviera
A few things that we know about this "opening soon" resort:
Located in the Kanai resort community that currently only has plans for four luxury hotels, the resorts will be about 30 minutes from Cancun and 10 minutes from downtown Playa del Carmen.  The community is located on more than a mile stretch of white sand beach, with a coral reef about half of a mile away that is part of one of the largest reef systems in the world. 
The four properties are Etéreo Auberge Resorts Collection property, the only resort currently open. The St. Regis Kanai Resort, Riviera Maya will be opening middle of next year. The Riviera Maya EDITION at Kanai – also a Marriott brand — is coming soon, although there is no set opening date yet. The fourth property that will be part of the Kanai resort complex has not yet been announced.  But based on current projects in the works, it will no doubt be just as luxurious as the one completed and the two on the way. 
The St. Regis Kanai Resort, Riviera Maya, will feature 124 rooms and 32 villas that will each have their own private pool.  On the property itself, guests will have access to three different pools, two of which will be adult-only, a whirlpool, and a spa that has eight individual treatment cabins.  There will be eight dining and beverage establishments. A fun-looking venue is "The Library", where you can explore and taste a wide variety of Mexican chocolate preparations. Just chocolate. My kind of place!
The Kanai resort community is yet to be completed, with a planned finish time frame of sometime in 2025. 
There's a lot of buzz about the St. Regis property in particular. The location is amazing, and the resorts — well, just look at the amazing images of what it will look like!