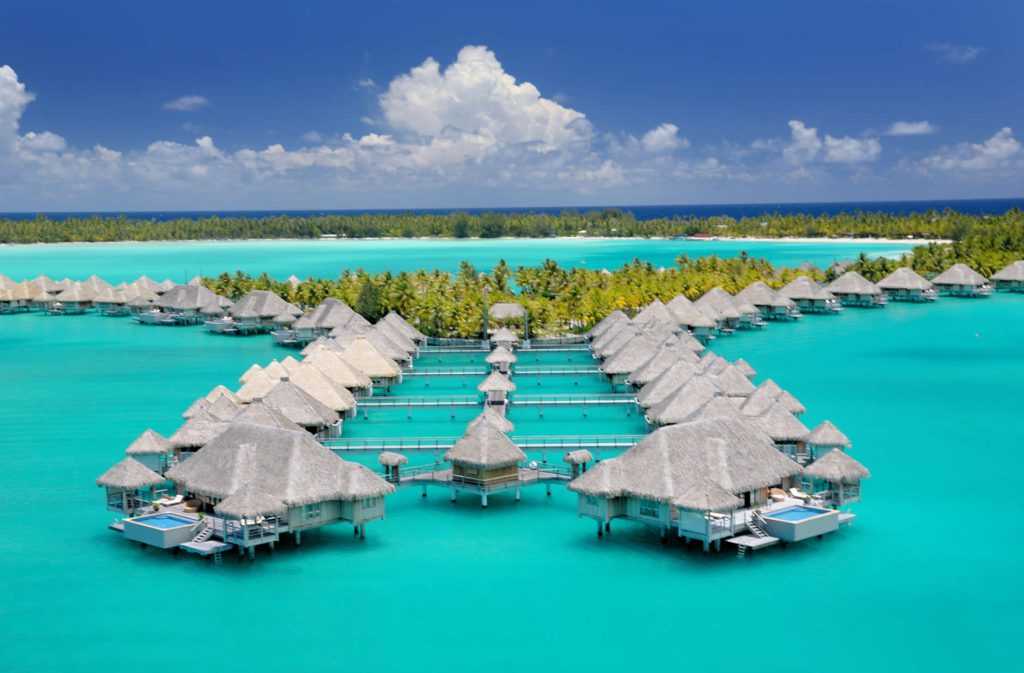 With the new Elite Night Award awarded with the Marriott Brilliant American Express credit card, you could stay at the St. Regix Bora Bora Resort resort for one night for "free" – something you couldn't have done before! 
This week, Marriott announced some major changes to both the Chase Boundless card and the Brilliant American Express card. In addition to the changes, they introduced two NEW Marriott credit cards — the Marriott Bonvoy Bevy American Express Card and the Marriott Bonvoy Bountiful Card from Chase. Here are the features of both the Marriott American Express Bevy and Brilliant credit cards to compare.
| | |
| --- | --- |
| Bevy (Annual Fee $250) | Brilliant (Annual Fee $650) |
| 6X points on each dollar at Marriott hotels | 6X points on each dollar at Marriott hotels |
| 4X points at restaurants, including takeout & delivery. | 3X points at restaurants and flights booked directly with airlines |
| 4X points U.S. supermarkets (up to $15,000) | 2X points on all other purchases |
| 2X points on all other purchases | $300 Dining Statement Credit (up to $25 per month) |
| Bonvoy Gold Elite Status | Bonvoy Platinum Elite Status |
| 15 Elite Night Credits | 25 Elite Night Credits |
| Earn 1 free night after spending $15,000 in a calendar year. Award is 50,000 Bonvoy points. | After spending $60,000 on purchases, you are eligible for Earned Choice Award – Five Suite Awards or an additional Free Night Award for 85,000 points. |
| | $100 Bonvoy Property Credit when staying at a Ritz or St. Regis for a 2-night minimum stay. |
| | $100 Fee credit for Global Entry or TSA PreCheck |
| Buy now, pay later with Plan It® | Buy now, pay later with Plan It® |
| | Free night award every year on anniversary date. Award is 85,000 Bonvoy points. |
| | Priority Pass Select at airport lounges |
As you can see from the above chart, the Brilliant credit card has better perks and higher bonuses. Of all the Marriott credit cards, the Brilliant card has the highest benefits provided. But don't neglect to notice the hefty annual fee! What used to be a $450 annual fee for the Brilliant card is now $650!
If you already own a Brilliant credit card, these changes are automatic and have most likely been posted to your account. We aso have the additional 10 Elite Night Credits deposited into our account.
I'll admit, seeing the Elite Night Award increase from 50k points to 85k points each year is sweet. And the $25 a month credit I receive from dining helps to offset the annual fee. But considering we are Titanium Elite Status for life without the card, and the fact that I haven't been able to upgrade my room using my Suite Awards I have already received to any Marriott hotel reservation, and I have Global Entry for a number of years more, the hefty $650 fee is making me seriously look at other credit card options – the increased benefits doesn't justify the increased fee. After checking the chatter on social media about this card, I'm not the only one who is not happy with the $200 annual fee increase either.
Personally, I feel it is a good idea to have a Marriott credit card to pay your maintenance fees. That gets you 6X Bonvoy points per $1 you will be spending anyway. And we all know maintenance fees aren't cheap. But there are other Marriott credit cards that will provide the 6X points per $1 and doesn't have such a high annual fee. The Marriott Boundless Chases credit card does that and only has an annual fee of $95.
One good thing to remember is that if you already have the Brilliant card, you can enjoy the added benefits and increased bonuses without paying the higher annual fee UNTIL your anniversary date. If you're like me and want to check out other options, you have time to do that. Our anniversary date is in May, so I have about 6 months to make a definite decision.
There are TONS of credit card options out there. If you want some good advice on which credit card meets your travel goals, I recommend you check out @melissastraveladdiction on Instagram. She helped me out — her posts show how to travel for almost free by maxing your credit card points. Check it out!
Share your own thoughts of the Marriott Brilliant American Express credit card changes in the comments below.