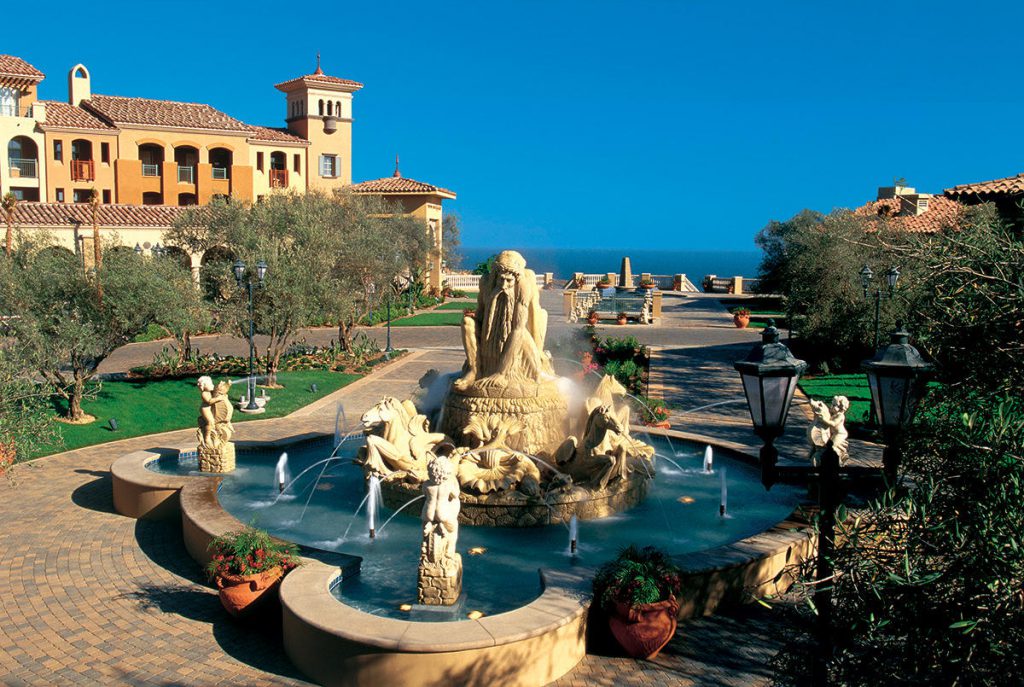 Each year we take our entire family to Newport Coast Villas and have an AMAZING time together. It truly is the kids' favorite week of the year! This year we packed so many fun activities into each day. Here are some ideas for you to consider, if you have some children. Our grandkids are all 12 years old and younger, so these games and activities wouldn't be as exciting for teenagers and older children.
Matching swimming suits and pajamas. The kids love matching their cousins for "beach day" and "movie night".  They were so cute!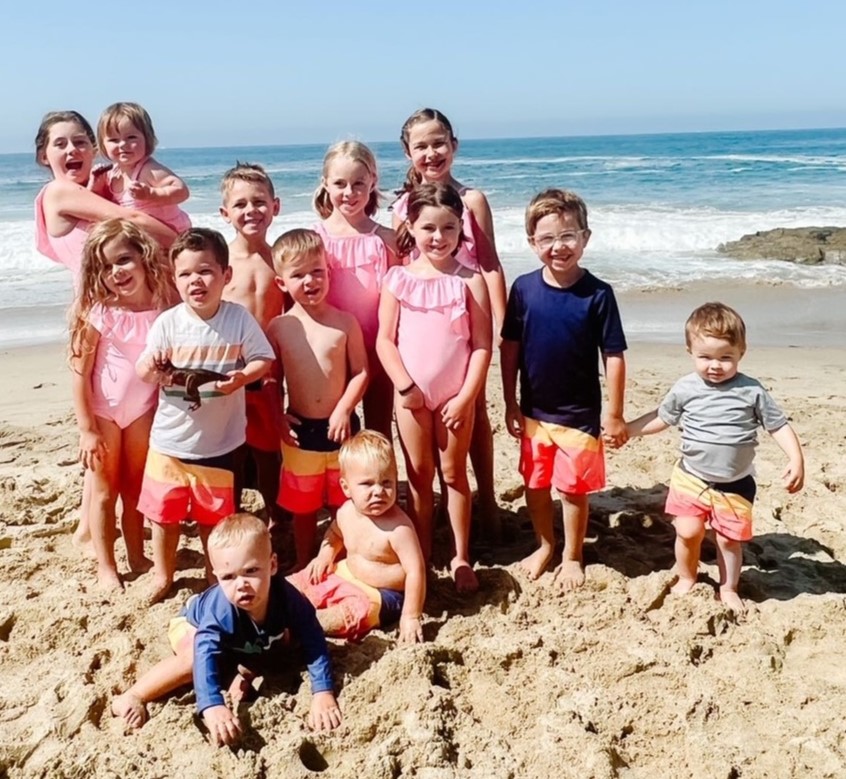 Bingo – This was extra fun.  Instead of the typical Bingo card, we made special Bingo Cards that contained a picture of each child. Not only were they looking for their cousin on their card, but they were hoping their name would be called.  So fun!!
Pizza Party at the Pool – We ordered in pizza and ate it at the pool.  The kids LOVED that. Sitting on their towels and they could be as loud as they wanted!
Games – the favorite was the magnetic tiles.  They worked together to make a huge complex.  Great activity for the older kids while the younger kids took naps.
Chocolate Chip Cookie Tasting Competition – we got 9 different brands of cookies to have everyone taste and see which was best. No one knew which ones they were eating – they were numbered.  The kids LOVED taking a bite of so many different cookies and deciding which one was best.  Last year we tasted hot fudge sundae sauces – a favorite activity each year!
Carnival Night – We assigned each family a carnival game.  We laughed so hard at these.

Throwing a ball with Velcro on to a target

Matching rubber duckies floating in water

Putting hair tinsel in hair (boys didn't like this one) Hair tinsel kit
Doughnut bob – I included a picture of this one below.  The kids couldn't use their hands. We lowered the pole holding the doughnuts tied on strings to the child and they raced to see who could eat it first! One of the best activities all week!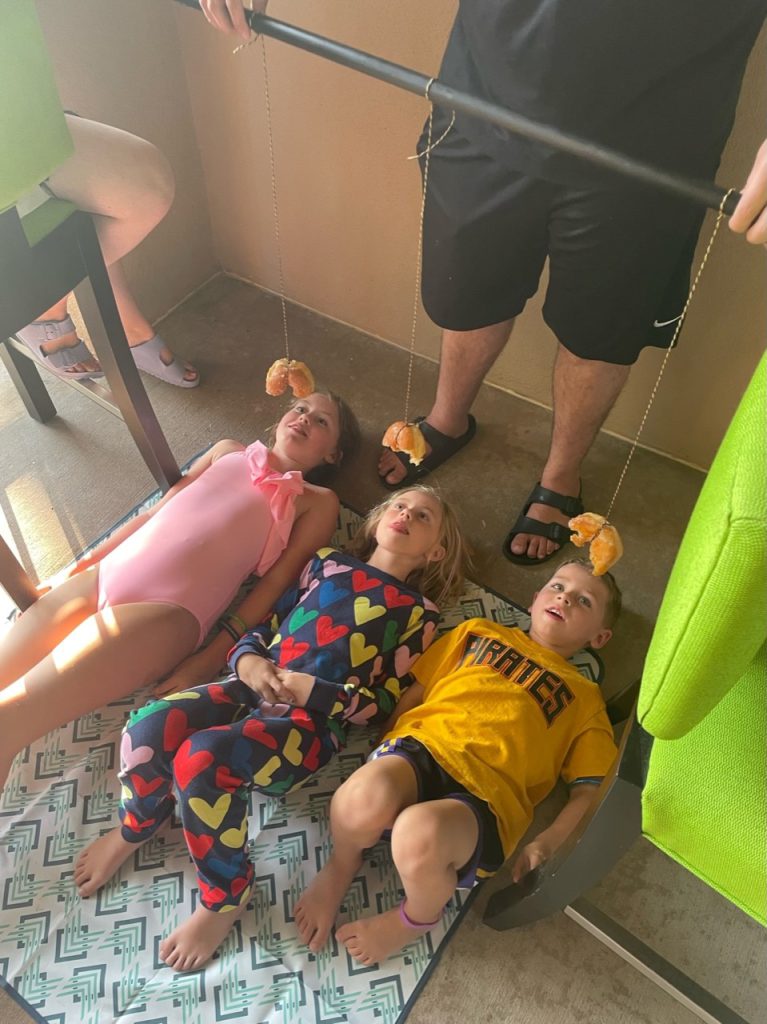 Painting rocks – there is a craft kit for children that has all the supplies.  Easy and the kids loved it.  The paint is washable and doesn't stain anything. A great activity while little ones slept. Rock Painting Kit
Airplanes – another craft kit for children.  They built an airplane, and then we took them outside and had them throw them to see which went the furthest.
S'mores – not a surprise here.  But we had some way cool s'more sticks that made this easy and safe. The gas firepits near the splash pool is perfect for s'mores. Marshmallow Roasting Sticks
Bubbles from a bubble gun.
Parachute – the kids had small blow up beach balls that they put on the parachute, and held onto the handles and waved the parachute up and down to bounce off the balls.  They LOVED this!!!
Find the seashells in the sand – we buried pre-purchased sea shells in the sand and then the kids used the sand box tools to find the sea shells and put them in a baggie that they could keep.
The BEST activity we did all week hands down was the last night.  We put together a short video from the pictures we took all week that we watched and laughed and remembered the good times together.  Then we had trophies for each child – an award that was etched on the plate of the trophy.  Awards such as "most helpful", "best friend to everyone", "most improved swimmer", "funniest" etc. was announced.  The kids were so happy and excited to not only get the trophy, but to be recognized for something they did well.  What a great way to end the whole week with everyone feeling loved and special!!!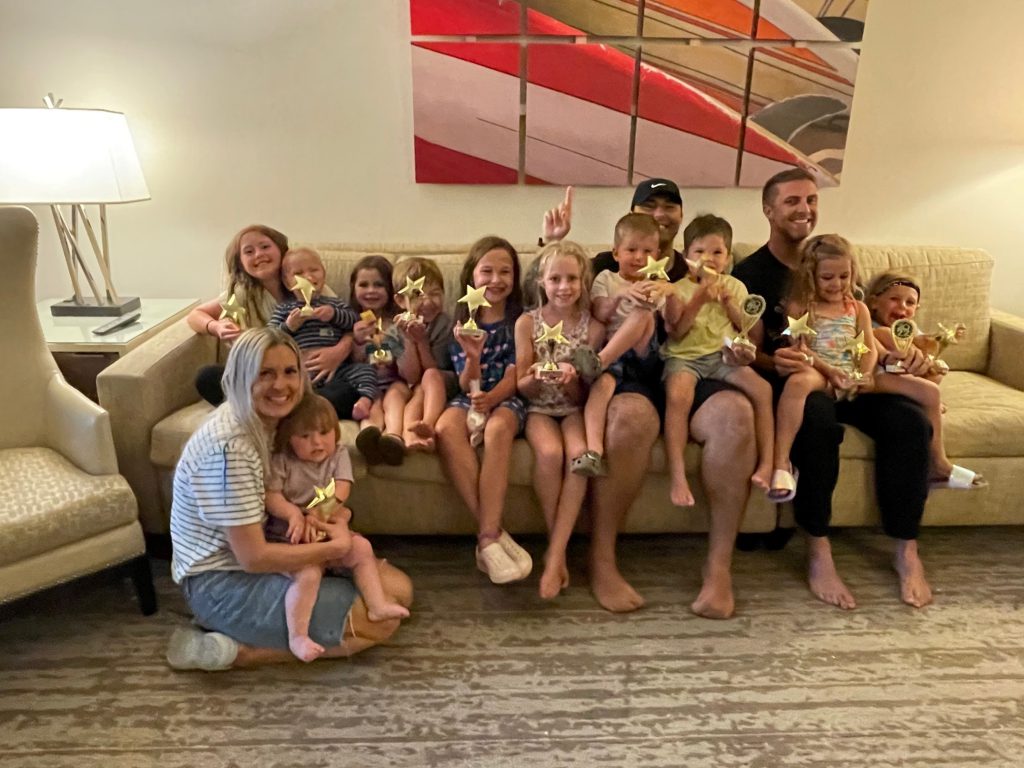 Each year we have such a great week together, but this year – well, it was EPIC!!!