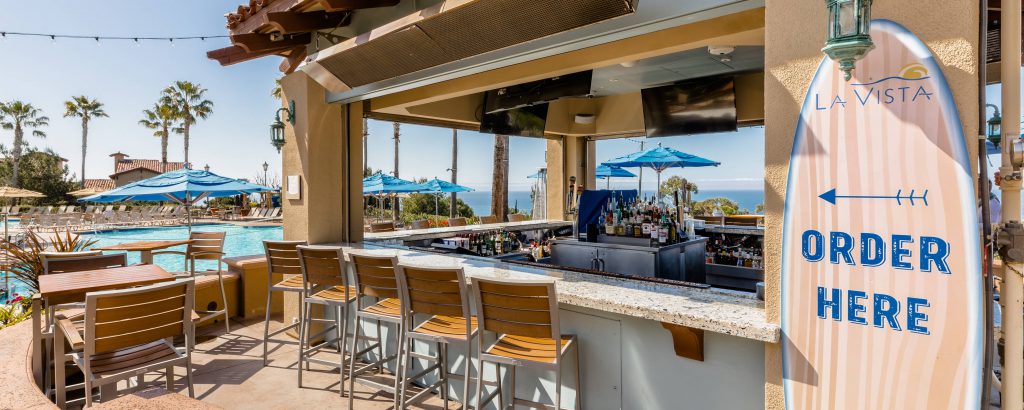 It's so nice to see more amenities opening up. Everything at this resort is pretty well open and the resort is at full capacity — when we were there, it was 99% capacity. But with so many activities, and the villas being spread out as much as they are, you don't feel crowded or confined.
La Vista Grill
There is not an onsite restaurant at this resort. But there is the La Vista Bar & Grill at the main pool and it is a great place to get a quick meal, snack, or drink. Their hours are daily from 11:00 am – 8:00 pm with live entertainment daily from 5:00 – 7:00 pm. They do not deliver to the villas.
Our favorites on the menu is the Poke Bowl, Chicken Quesadilla, Mahi Mahi Fish Sandwich, and Nachos.
Tuesdays is "Taco Tuesday" with every taco you build is $5. This is a MUST if you are staying here on a Tuesday evening. You build your own taco (you tell the servers what you want), putting whatever you want on how ever many tacos you want. It was SO YUMMY, and a much better deal than the fish tacos my husband got — which is not part of the special!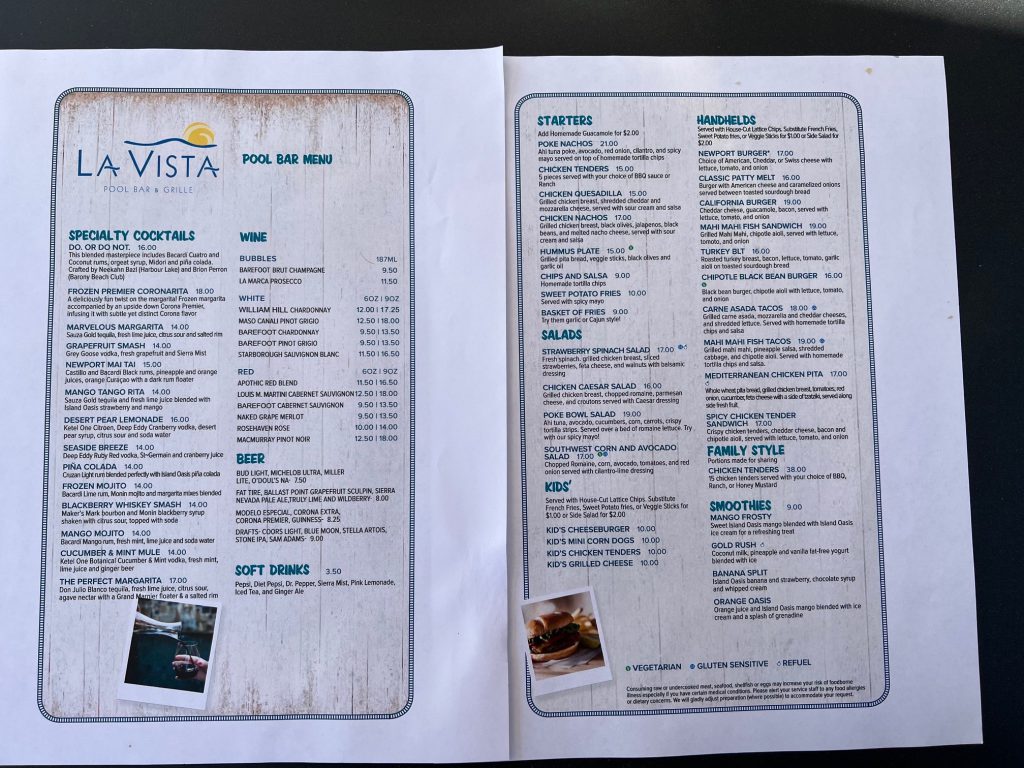 Shuttle Schedules
The free shuttle to Crystal Cove State Park is one of our family's FAVORITE activity for the younger children. The kids think they are riding on "Daniel Tiger's Trolley" as they ride on the open-air trolley! It's very convenient to ride down to The Beachcomber Restaurant, or take your beach items and spend some hours on the beach.
Newport Coast Villas also has FREE shuttle services to Laguna Beach for another beach option, and to Fashion Island for shopping. Departures for all shuttles are located at stop 11, near the King Triton's Fountain. The schedule for all shuttles are listed below.
Crystal Cove Beach (Beachcomber Restaurant)
7:30 am – 8:00 pm
Daily every 30 minutes
It does NOT run at 8:00 am, 10:00 am, 5:00 pm, 7:00 pm.
Trolley car often used. Continuous loop from resort to Crystal Cove Beach.
Laguna Beach
8:00 am, 10:00 am, 12:00 pm, 2:00 pm, 4:00 pm, and 7:00 pm
Fashion Island
1:00 pm, 3:00 pm, and 5:00 pm
Resort Shuttle Schedule
We've been dropping off people and beach equipment FOREVER at Crystal Cove, but that is no longer an option. The Ranger Station will NOT let you drop off people or beach items at the drop-off location anymore. You will have to pack everything on the shuttle, so be prepared for that. For me, that is a "deal breaker". We now walk on Crystal Cove Beach from the resort. And we now ride the shuttle to Laguna Beach. It's a nice beach and has quaint shops and restaurants right across the street.
If you decide to drive to Laguna Beach, there is convenient parking near the beach. We prepaid $5/hour.
Activities Calendar
SOSOSO happy that the Activities are available, especially the children's activities.
The more popular activities: Wine & Cheese (complimentary, for guests 21 years and older), Beach Bash & Scavenger Hunt where you decorate your own foam beach visor and then have a scavenger hunt (complimentary), Pajamas & Pancakes where you come dressed in your pj's and eat pancakes (complimentary), Pirate & Princess Party where you decorate a pirate hat or princess crown and then have a treasure hunt (complimentary), Science Show where you see cool tricks and experiments (complimentary), and Movie Under the Stars where you watch a family friendly movie under the stars while sitting on your blankets and eating snacks (complimentary).
These activities can be crowded, so I recommend you show up 10-15 minutes early to get a seat. There were about 100 children at the Science Show when we were there.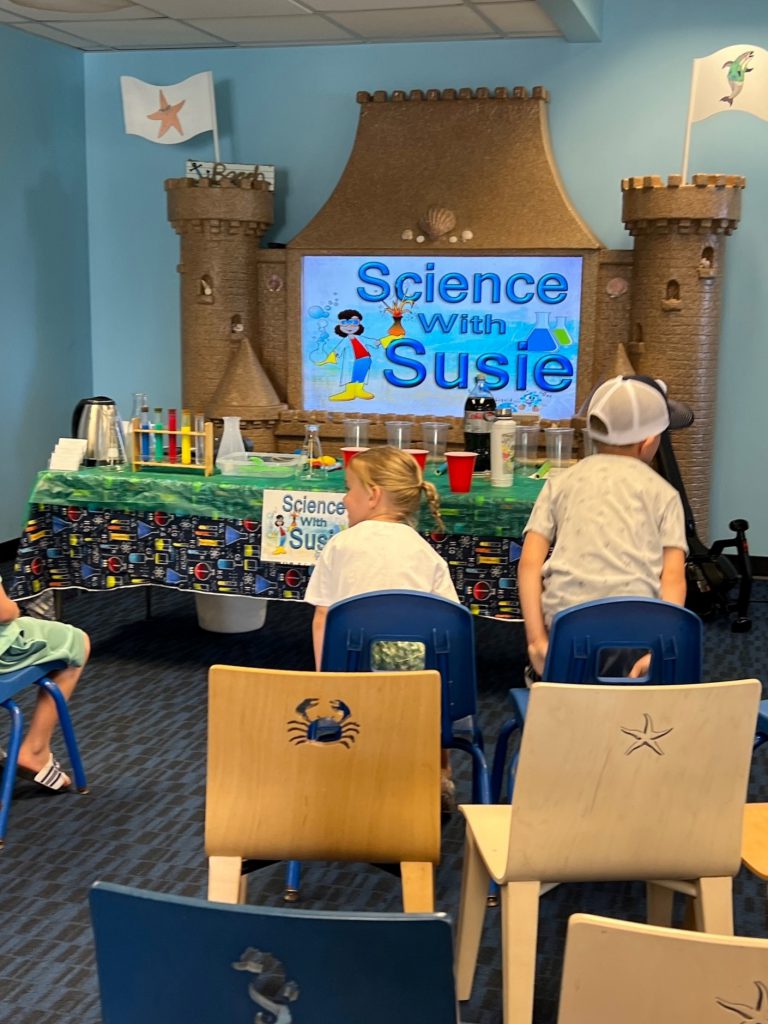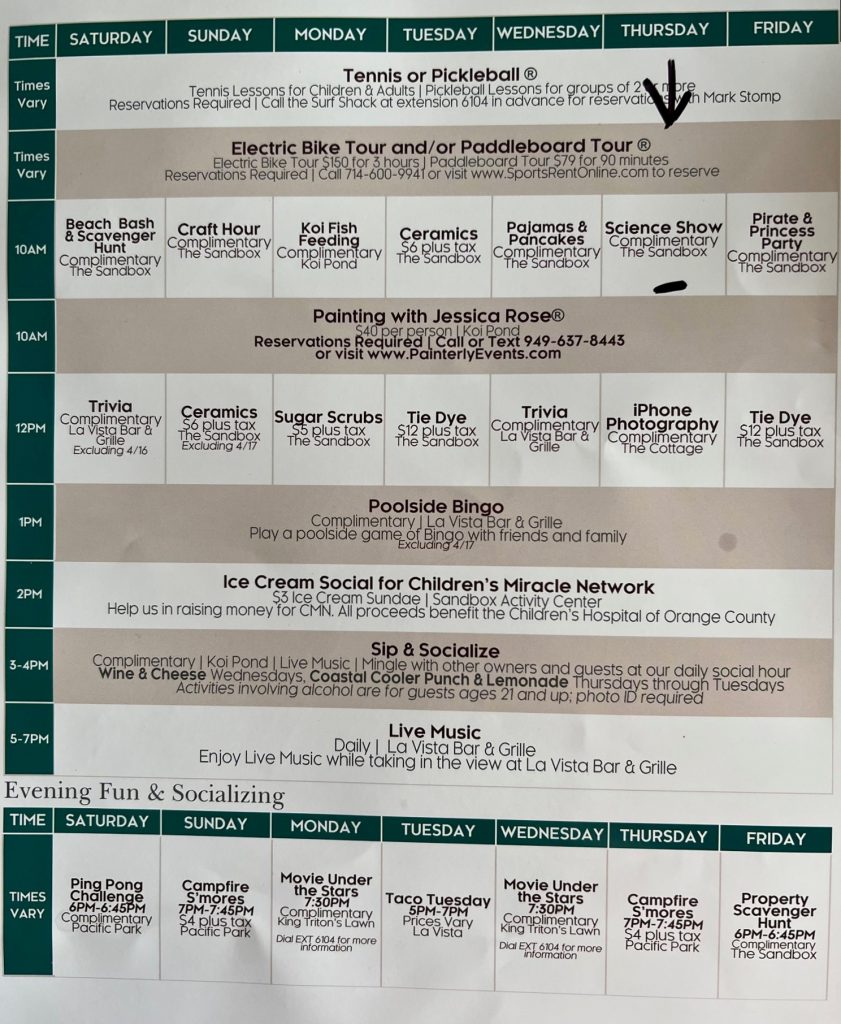 As for the Daily Fitness Schedule, it is available daily in the mornings, and consists of aquaFIT, aquaYOGA, Core & More, Renew: Stretch, BEACHwalk, Yoga Classes, and MATpilates.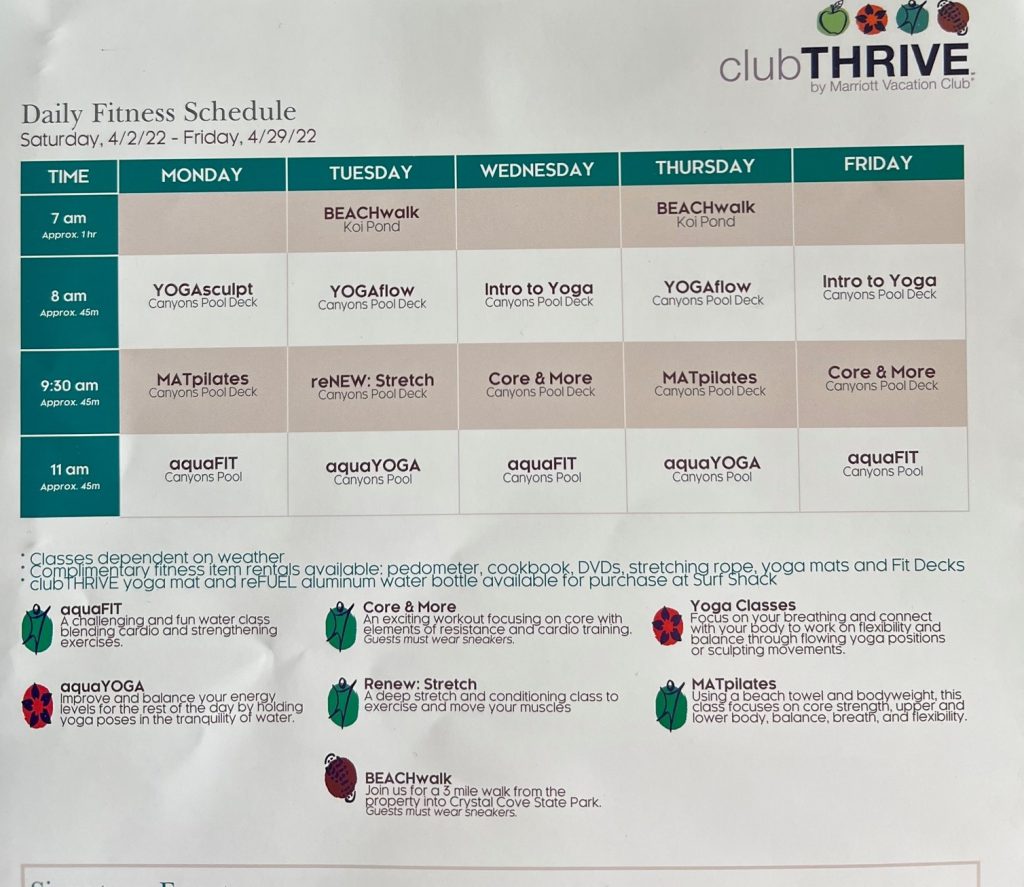 Other experiences at Newport Coast Villas
Surf Shack Rentals: 9:00 am – 6:00 pm — Tennis Racquet & Balls is $6 + tax, Pickleball Set is $7 + tax. Beach chairs are $10, Beach Umbrellas are $8, and Sand Toys are $5 — all plus tax. Complimentary Items are Football, Frisbee, Soccer Ball, Water Volleyball, Bocce Ball, Fitness Equipment. Max of 3 complimentary items per villa each day. Rentals are due back by 10:00 am the next day.
Cottage & Teen Lounge Arcade: 7:00 am – 11:00 pm
MarketPlace: 6:00 am – 10:00 pm I tried to get their acai bowl multiple days, but they were always out of the fruit. TIP TO SAVE MONEY!! Every day at 4:00, their fresh items are put on clearance at 50% off. That includes all their sandwiches, salads, pastries, yogurt bowls, etc. That's a GREAT deal!
Pools: 7:00 am – 11:00 pm (new pool furniture — NICE!!!)
Coastal Cinema: 3 movies each day, 12:00 pm, 3:00 pm, 6:00 pm. RESERVATIONS ARE REQUIRED. Complimentary. Approximately 12 guests max. Some example of movies currently showing (July 2022) is Respect, Paw Patrol: The Movie, King Richard, Cruella, Encanto, Dune, Spiderman: No Way Home, Just Mercy, Luca, Space Jam: A New Legacy, Black Widow, House of Gucci, Jungle Cruise, and No Time to Die.
Spa by the Sea: Closed Sunday. RESERVATIONS REQUIRED.
Check out a list of Restaurant Recommendations by Marriott Owners while staying at Newport Coast Villas!!