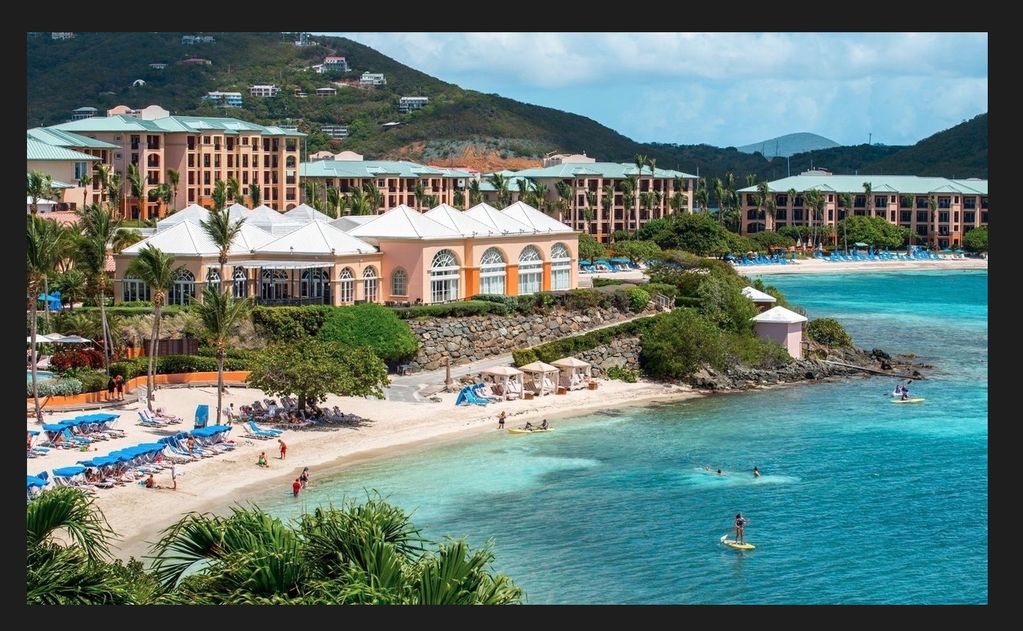 St. Thomas Airport
St. Thomas is typical for a small island. Disembark onto the tarmac. Exit out of both front and rear of the plane. Maneuvering your carry-on luggage while descending the steps from the plane. Nothing much has changed in the last 10 years — except COVID check points.
TIP: Not that you have any control over this, but if you have a stroller, walker, or wheelchair when you disembark on the plane, they will move you to the front of the line. The COVID checkpoint is outside the airport before you enter to retrieve your luggage. There are 8 small tables — each one a checkpoint. They will scan your green QR code you received from the USVI Travel Portal, and compare it against your ID. Then they take your temperature to make sure you don't have a fever and wave you inside. It goes fairly fast, but they don't start processing until all the people are off the plane.
If you haven't prearranged a private taxi, you can find one outside the airport after you have all your luggage. It's about a 40 minute taxi ride to the Ritz — not that far, but winding roads and not moving really fast. It cost $105 for 5 of us and lots of luggage (without the tip). If you didn't catch my previous post, all taxis are CASH. https://maxingmarriott.com/2021/12/16/all-things-st-thomas-before-you-arrive/.
Once you arrive at the Ritz, you will be greeted by their staff, unloading all your luggage before you can get everyone out of the car. They show you where to check in, and they are off delivering your luggage to your room before you even know where the room is. Inside they check you in, and give you an explanation of the property. Then they take you back outside where a staff member drives you to the correct building, escorts you to your room and walks you through the villa. Our refrigerator was full because of our grocery order, and when I walked to the balcony the view was stunning. I prepared a short video showing you the villa, and included a picture of our view from our balcony. I knew this was going to be a special vacation. (Coming tomorrow)
Tips and Insights About Ritz-Carlton St. Thomas
The Club and Hotel are next to each other. You can use the pools, eat at the restaurants, use the towels and chairs — everything at the hotel as if you were staying there. We were told that there was a fee to use the hotel Kids Pool and Splashpad. But we were there every day, and no one ever said anything about it. They brought us towels and set them up on the loungers for us, brought us drinks, and said "welcome back" each day — no problem. It is truly the BEST of two AMAZING properties. Five restaurants — I can't even count the pools, 2 beaches, and the best service you can get anywhere.
When it came to the concierge or front desk questions or requests, I didn't get any response from phone calls, either from my phone or the villa phone. I found it better to use the Marriott Bonvoy app and "chat" with them. It wasn't an immediate response, but I heard from them within a few minutes, which was acceptable.
Each day from 3-4:00, there are free cookies at the front entrance. Make sure you do that. Fresh coffee is served every morning as well, in the lobby. Housekeeping comes twice a day and you are required to be out of your room. The morning service was no problem, but for the night "turn-down bed" service we were always in our room (2-year old), — so we just got the free chocolates they handed out.
My favorite part of the Ritz?? Easy — sitting on our balcony enjoying the amazing view! And the friendly service from everyone!