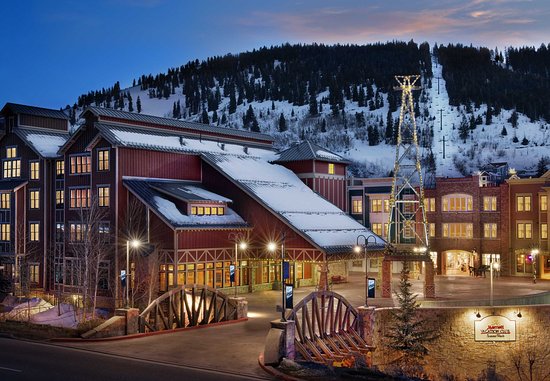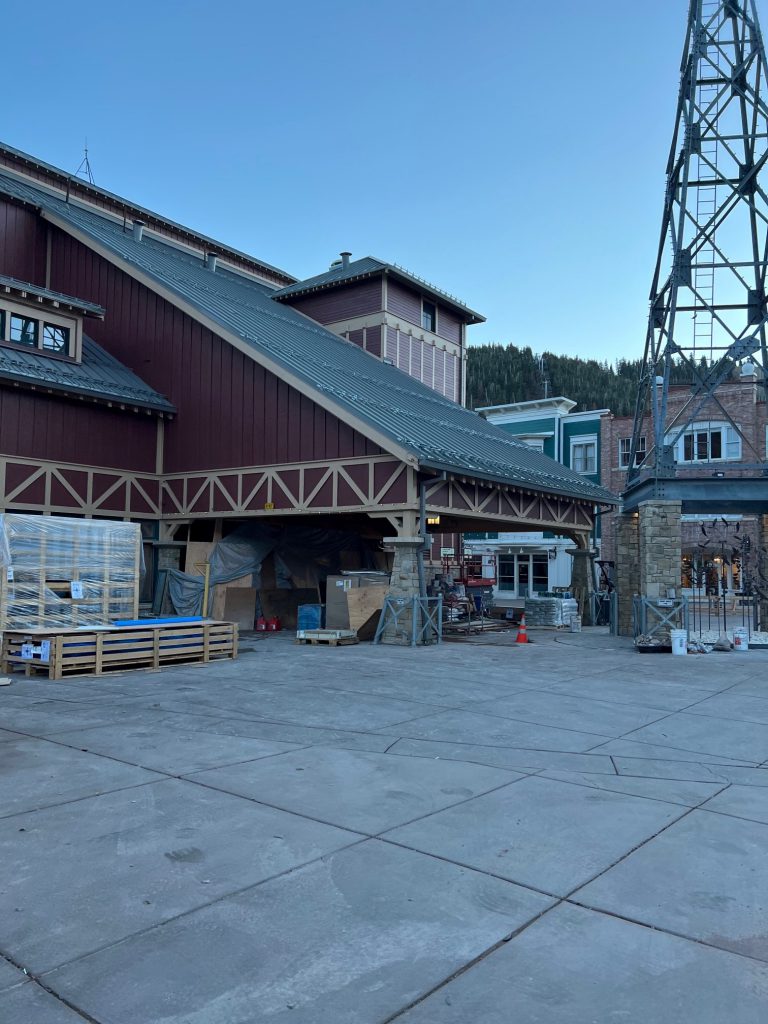 Current Renovation
Summit Watch is being renovated, well at least the main lobby area pictured above. Even the entrance from Deer Valley Drive is currently closed, and the only entrance into the property is from Main Street into the parking garage. In order to check in, you must enter the parking garage and follow the signs. Don't stress about taking a parking ticket if you are driving — go ahead and take one and when you check in, they will exchange it for a complimentary pass (no charge). The temporary lobby is located in the parking garage where the Fitness Center was located when the property first opened. It is truly "temporary" with just a minimal setup to provide the necessary services. The renovation is scheduled to be completed by November 9th, so if you are coming to ski, you won't deal with any of the construction. Having said that, it doesn't look like it will be completed in about 10 days — but I don't have any information to confirm my opinion.
The property is medium size for MVC Properties. There are 6 buildings with up to 4 floors and a total of 135 villas. All are 2 bedrooms with lock-off options. The villas have been updated with new furnishings, carpet, paint, and draperies since I was here in July. I personally love the gas fireplace and it's usually on when I'm in the room.
When Is The Best Time To Go
If you're a skier/snowboarder, the answer is obvious — during ski season, which is late November to mid April. Park City Mountain Resort has snow making machines, so they are usually open around Thanksgiving, regardless of the snow storms received. To get the most value for your Destination Points AND get the best snow, AND your schedule is flexible, I would recommend you reserve January 7-13, 2022, or corresponding week in later years for 3900 DP per week for a 2-bedroom — a GREAT VALUE!! All other weeks in January and February would take 5225 DPs. December before the holidays is also 3900 DP, but the snow won't be as good. Park City is in the mountains, but not as high in altitude as other Utah ski resorts and doesn't get as much natural snow.
For owners not coming for the snow, you will get a lot of bang for your points! If it's springtime, I recommend the last part of June, where a 2-bedroom villa only requires 1725 points for a week! If you are looking at the fall time (the trees changing is GORGEOUS), I recommend the end of September — only 1000 points per week for a 2-bedroom villa!!! AMAZING VALUE!! If you only stay during the week, it is only 100 points per night!! You could stay five nights, Sunday through Friday for only 500 points! AND to make it even sweeter, there is often availability within 60 day to qualify for the discount!!! MAXING YOUR DESTINATION POINTS VALUE FOR SURE!
Which Building to Request
Everyone likes to know which building is the best one to stay in. I've stayed here since they opened in the 1990's and have preferred different buildings to stay in for different reasons. If you have children and will be spending lots of time at the pool and activities, I recommend the Pioneer Building. It's close to the pool entrance. Wasatch Building and Ontario are also good options. I avoid staying in The Lodge or Silver Nugget Building as the noise of the road can be heard, and the view isn't anything to get excited about. I also prefer to face Main Street — but I'm a people watcher person (not in a weird way, but enjoy sitting at the window seat reading a book and watching people stroll down main street). Some say the noise can be bad facing Main Street — I've never experienced that, even on Sunday's open air market and street festival. If you are concerned about the noise, request a villa facing the Terrace — still in a great location, but quieter. For skiers, Wasatch Building would be ideal. I always request a high floor, but if you have small children, a lower floor might be preferred.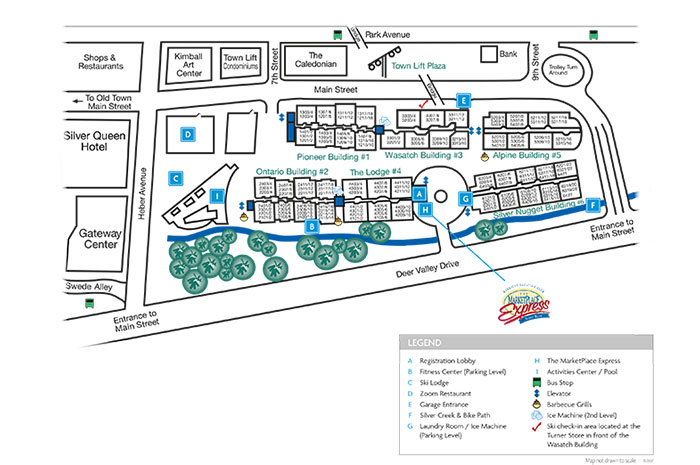 Getting There From the SLC Airport
Since I live within driving distance, I have never had to commute from the airport to this resort. I have heard from other owners that Summit Limousine is good — they charge $110 one way for up to four people. The vehicles are large enough for multiple people and luggage. From a quick internet search, it appears that there are numerous options.
Checking In
As you can see in the image below, the check-in process will be greatly improved once the construction is completed. You will receive a calendar of activities, a map of the property, and a complimentary parking pass for one car. They also will give you an invitation to get a free gift at the Welcome Desk. When you pick up your gift, you can also get a discount card for selective restaurants and activities, and try and get you to sign up for a sales presentation if you qualify and don't have one scheduled already — you know the drill. I recommend you get the restaurant discount card. Most discounts at restaurants are 10%, but 10% is 10%! Bike and ski rentals are 25% off.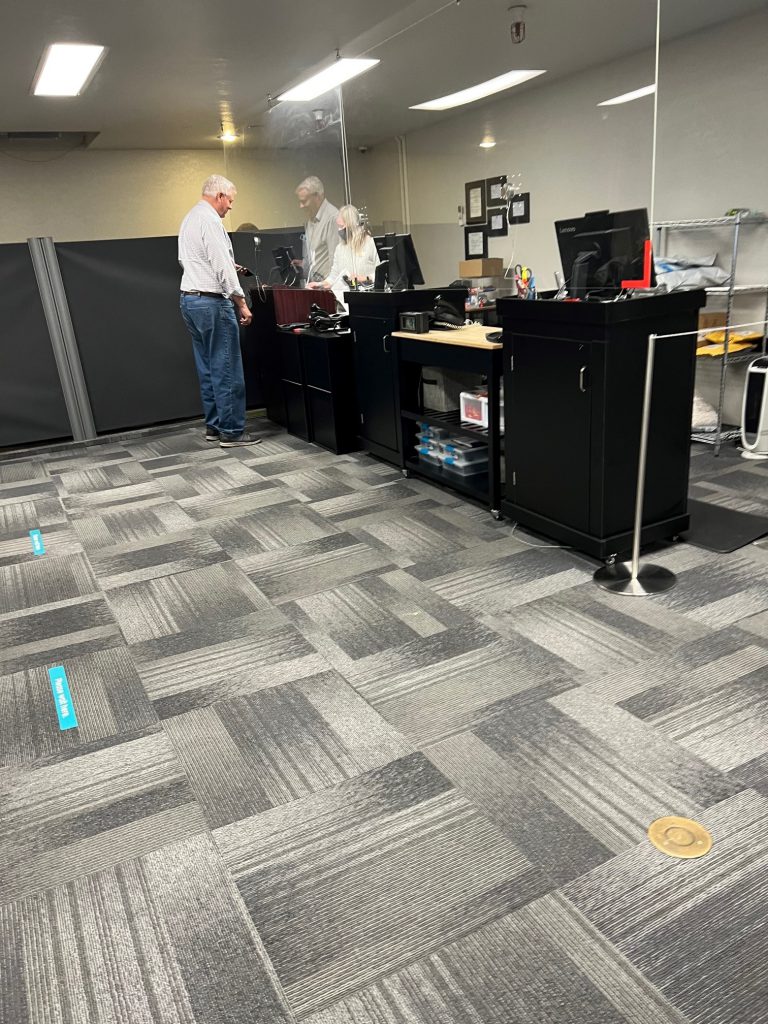 Parking
The Summit Watch parking policy is one area I think they can improve on. Marriott doesn't own the parking garage, and thus they are limited to the number of parking stalls they can use. They only allow one complimentary parking pass per 2-bedroom villa reservation. The problem is if you have more than one car, there isn't really an option for you except to PAY the $15 a day fee or $40 a week EXCEPT holidays. In past years, there was a parking lot at the top of Deer Valley Drive — about 1/2 mile away — that you could park your car overnight for free. It was a hassle, but doable. Now I've been told we can't use that lot anymore. If it isn't ski season, you can use the parking lot at the bottom of Park City Mountain Resort (further than 1/2 mile away). During Christmas ski season, I don't know what you can do.
In the next post, I'll explain what you can do while you are here — Spoiler Alert — there is TONS!!!! Also what restaurants are my favorite, and some hidden "gems" you would normally not know about.