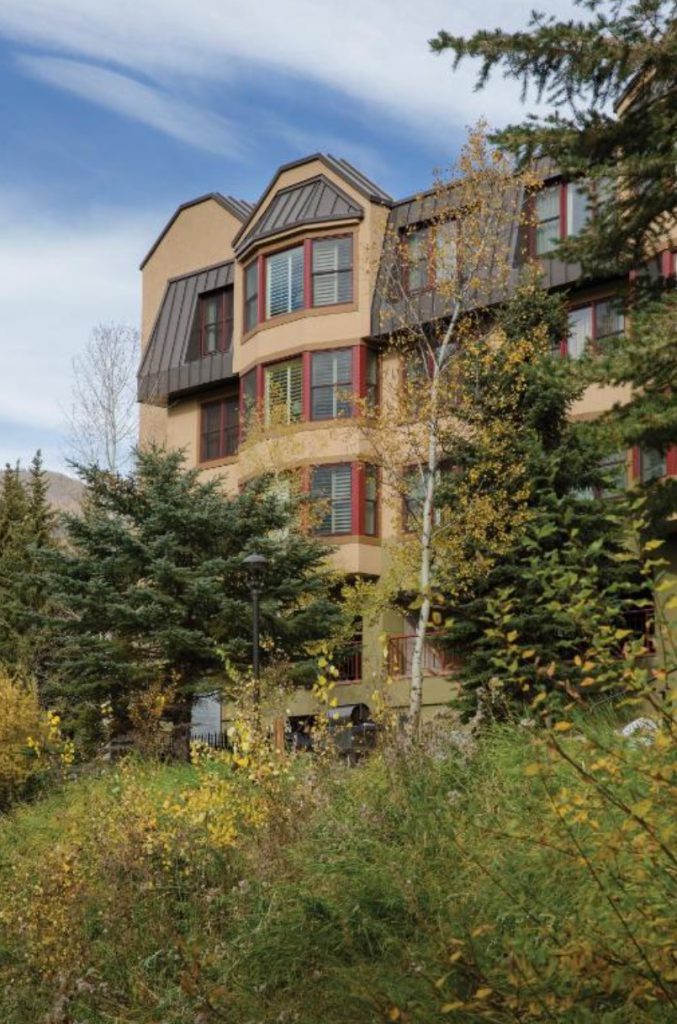 Checking in is calm and quiet. I never saw anyone waiting to be helped when I was in the lobby on various days — one of the advantages of staying in a smaller resort. I arrived at 4:00, and my villa was ready. Only took a few minutes before I was on my way to begin my adventures.
Unlike other MVC Resorts, you will not receive a welcome text once you check-in. Instead, they insert a card into your key card envelope (image below).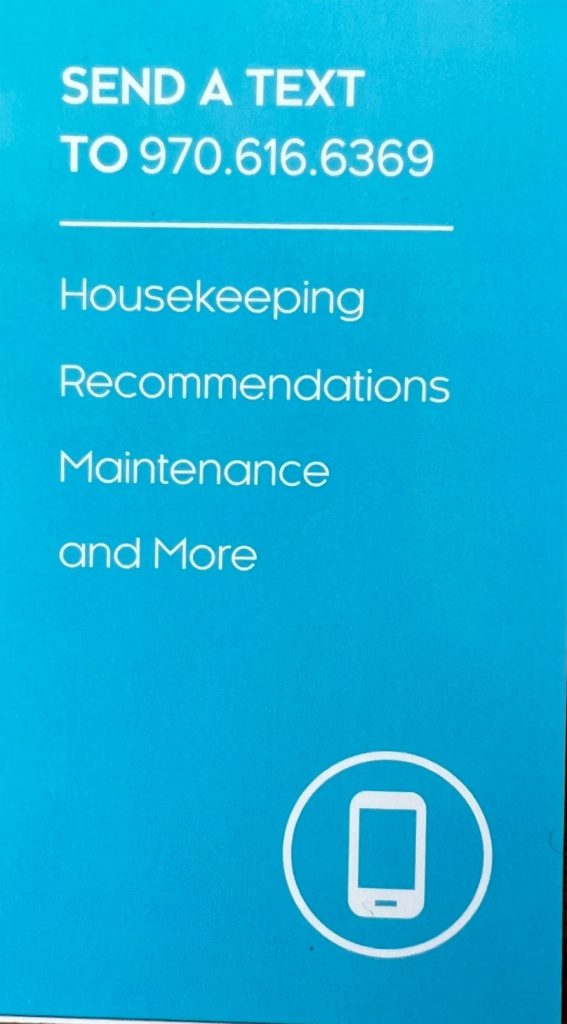 Not as "warm and fuzzy" of a feeling as receiving an auto-generated text welcoming you, but it does its job. And I don't know about you, but I LOVE using texts for questions, recommendations, or issues that come up. Streamside was prompt to reply, usually within a minute or so. One text took about 10 minutes to reply, but they apologized that they were helping someone — and I'm totally good with that.
The parking policy is totally adequate. For each villa, you get 2 "green" passes to display in your driver's-side window and can park anywhere on property. No fees. There is parking in front of the buildings, and also underground parking which is great during the snowy months. There are no charging stations at this property.
Anyone who follows me, knows that I always wear my MVC Band Key at the properties I visit. This trip was no exception. And hands down — the band worked on EVERY SINGLE entry — first time ever! It's always on, and very convenient to access the pool, villa, or gym. They are waterproof and reliable. I put it on in the morning, and never think about it again, and always have access to where I need to go. You can read more about it here. MVC Miracle Band Key
Each villa contains the pool towels needed. There are no clean towels at the pool. You can exchange your wet towels for clean ones by texting the number from the text you received when checking in. Considering the number of owners staying here at a time, it is not a hassle to get replacement towels when needed. One personal thing I noticed — I appreciated the extra bath towels stowed under the bathroom sink. Those come in handy since there is no housekeeping service.
There are no restaurants on site, but Streamside provides FREE shuttles every day to/from Vail Village and Lionshead — where all the action is. They are every 30 minutes, and very prompt and efficient. It was our "go to" mode of transportation after riding it the second day. I like FREE, and I like not spending more gas money. And I LOVED some of the restaurants — more on those in a later post! The shuttles leave from the front of the main building, and in our case, were dropped off at our building front door — closer than if we had driven our own car! This is a GREAT benefit at this property!
Streamside's pool is an indoor/outdoor pool — similar to the configuration of Marriott's Summit Watch in Park City. It's a good way to keep swimmers warmer in winter, and still enjoy the pool in summer under the sun.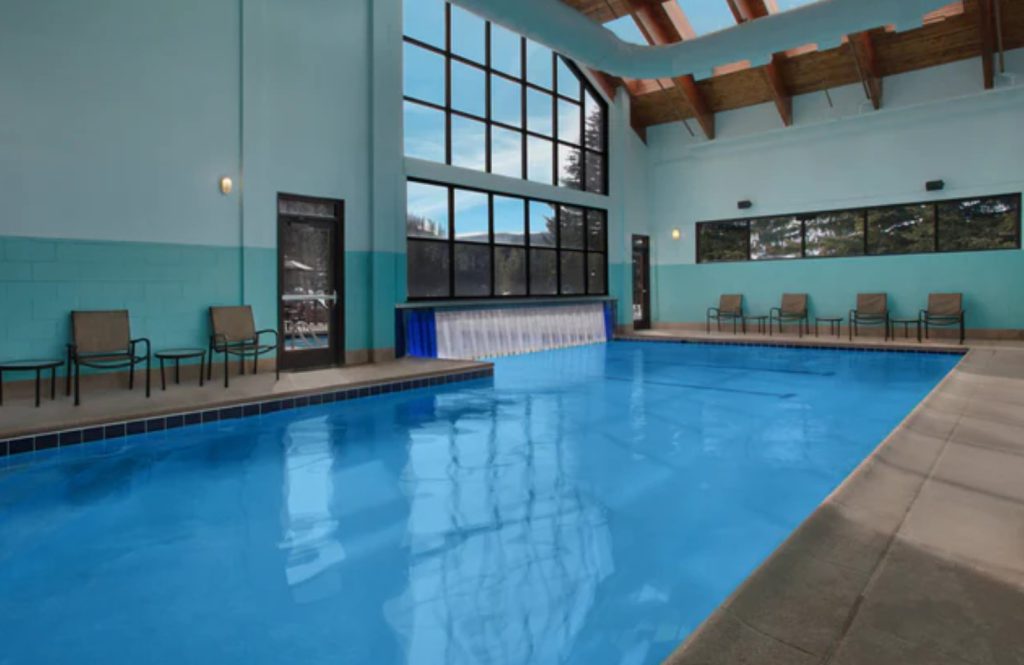 You can play on the racquetball/basketball court, "The Cave" the teen center with ping-pong and video games, and "Imagination Station" where there are a number of activities and kits you can pick up to keep your little ones busy — some kits have a fee, some are free.
One room in the main building that would be very nice if you had a group is "Gore Creek Lounge". It is very nice with a pool table, kitchen facilities for food presentations, TV, couches, fireplace — all the things you need to gather and visit together.
All of the activities are located in the main building with no villas sharing the building.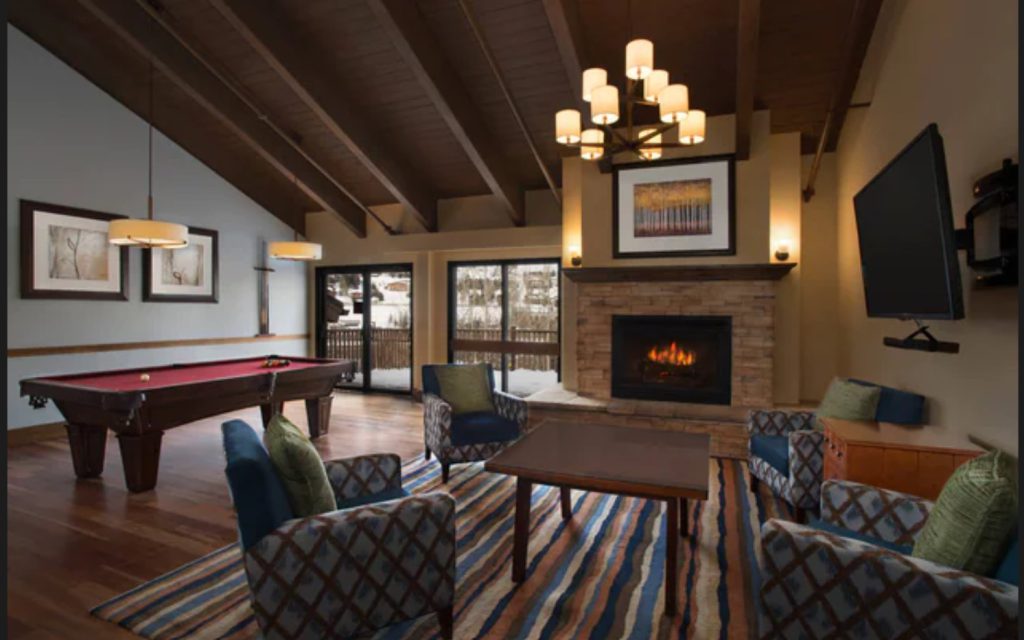 Many of these activities are available at other MVC resorts. What makes these amenities different from the others is that they are more accessible to owners that are staying here because of the lower number of villas at the property — at least that is what I observed while I was here. No waiting for my turn to use anything.
More posts are soon forthcoming about Streamside, but suffice it to say, I am LOVING my visit here. I had somewhat low expectations after talking to other MVC Owners. But if you are looking at MAXING your ownership, this needs to be on your short list, especially if you love the outdoors in the mountains. I've got a 2-bedroom villa for 5 nights — 350 Destination Points! Wait until you hear about you can do here off property!!!!