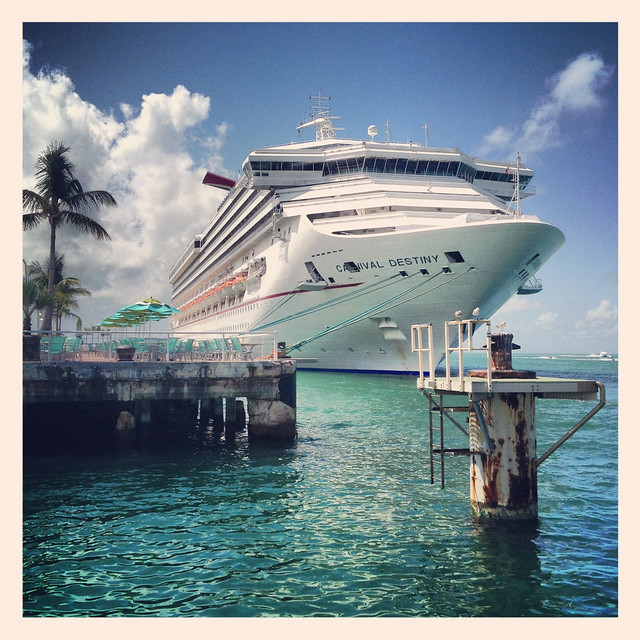 If you are a Marriott Vacation Club owner, you know about Destination Escapes! It's the very BEST way to maximize your Destination Points when going to a MVC Resort or Pulse property. Now Marriott has begun another Escapes program — Cruise Escapes. It's based on the same principle as Destination Escapes, except instead of discounting MVC properties, they are discounting Cruise vacations. Basically, it's last minute cruise sailings at a discounted rate — and I mean last minute by sailing within the next 12 months.
Cruise Escapes start at 500 VCP's (Vacation Club Points) per person and are no more than 3,500 per person. These sailings are within 12 months of booking and range from 3 night to 7 night sailings. Currently, there are 36 cruises offered with the Cruise Escapes discount. They include Norwegian Cruise Lines, Carnival, Royal Caribbean, Holland America, Princess Cruises, and Celebrity Cruises.
The only cruise requiring 500 VCP's per person is a 6 Day Pacific Coast cruise on the Grand Princess by Princess Cruises. It leaves from Los Angeles and goes to ports along the Pacific coastline. That's only 1000 VCP's for 2 people for 6 days on a cruise ship! Having said that, this cruise leaves in a couple of weeks on April 19th, with a ship rating of 3 1/2 stars out of 5.
The cruise requiring the most VCP's is 3500 VCP's per person for a 7 Day Mexican Baja/Riviera cruise on the Celebrity Millenium ship with Celebrity Cruise. That's a lot of points, but even with the big cruise promotions going on right now, you would pay more than $1800 for the same experience. This cruise leaves September 24, 2022 out of Los Angeles, with a ship rating of 4 stars.
There are tons of cruise options, including two European cruises — one out of Barcelona, and one out of Rome. I am in the process of checking for "Best Value", and how to MAX your Marriott Points. I'll keep you informed. But this is what I DO know so far.
The points showing required is PER PERSON, not for 2 as in the other MVC Cruise options.
Using VCP's for Cruises isn't a great value in using your points, compared to using them for MVC Properties.
Owners will receive up to $150 shore excursion credit on their first cabin reservation.
You can check out the website by going to https://mvcowners.ovstravel.com/cruiseEscapes/ . Or if you want to go the MVC website, it is under Explorer Collection and then going to the Cruises section. At the top of the landing page, select the new option "CRUISE ESCAPES" — circled in red below.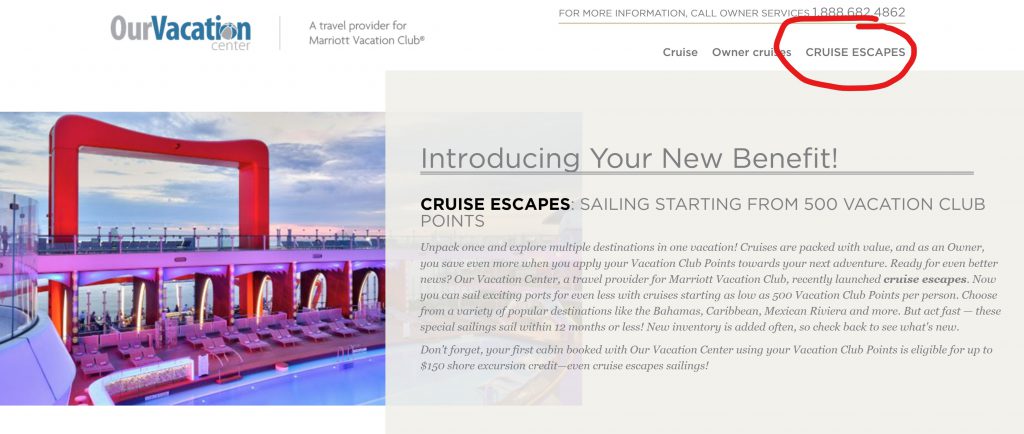 Check out the new website and tell me what you think about it!!