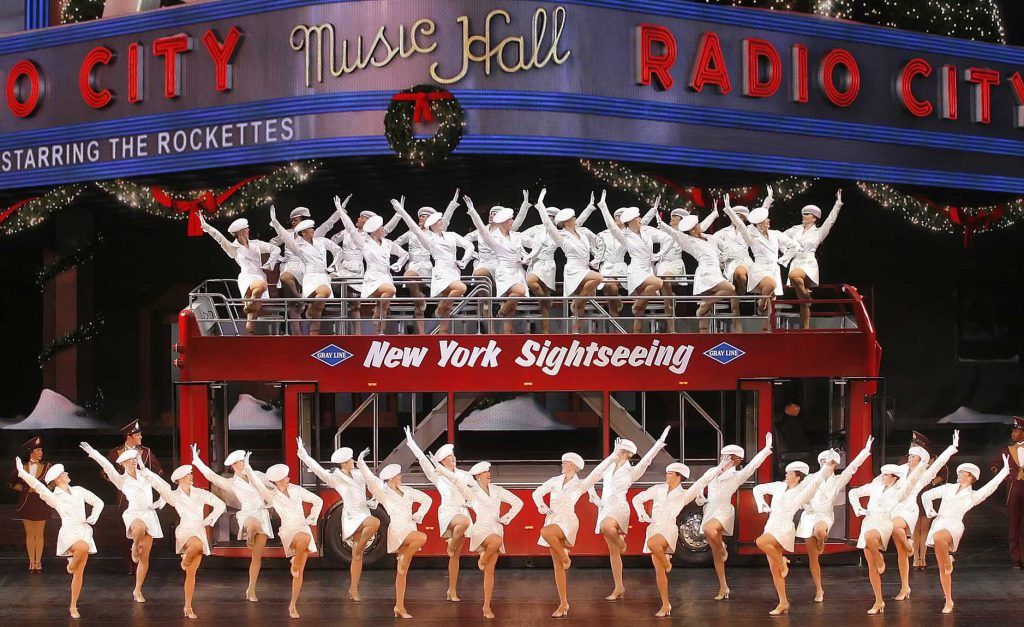 If you love New York City during the Christmas holidays, this is the package for you. It's a decent deal, too, so you don't need to justify to anyone about doing it! Spend 3 nights of various dates to choose from between mid-November to the end of December. It only takes 1800 Destination Points, so if you have some extra points at the end of the year, this might be fun for you. You would be staying at the MVC Pulse, New York and after checking into your room, you have an elegant dinner at one of the following IMPRESSIVE restauarants: Ai Fiori (French & Italian), Benjamin Steahouse (steak), Frankie & Johnnie's Steakhouse (steak), Marea (Italian & Seafood), and Osteria Morini (Italian). All are well-known and high class. Your meal will be a prepared prix fix menu (the restaurant's best)!
The next day you can enjoy whatever adventures you choose in the city that never sleeps (with guidance from the hotel if you would like). You will also get a $100 gift card to use towards shopping. That night attend the Rockettes Christmas Spectacular — no hassle in getting great tickets!
Retail value for this event is $2250, and since only 1800 Destination points are required, it is a good deal at $1.25 per point value. You can get more information here, including the phone # to call and make your reservation. https://events.marriottvacationclub.com/radio-city-rockettes-christmas-spectacular-2/.
As with all Owner Events, you must attend a 90-minute Sales Presentation as part of your package. And be aware of the cancellation policy!
Below is the current Owner Events that have availability — link for each one included for your convenience.
Name
Location
Date
MVC Points Needed
Retail Value
MVC Point Value
Concours d'Elegance
https://events.marriottvacationclub.com/concours-delegance-2/
Hilton Head, SC
Nov 6-9, 2021
3 nights
1200
$2902
$2.42
Culinary Weekend Tour
https://events.marriottvacationclub.com/culinary-weekend-getaways-2/
Hilton Head, SC
Nov-Dec, 2021
3 nights
600
$1410
$2.35
Maluma World Tour
https://events.marriottvacationclub.com/maluma-papi-juancho-tour/
Las Vegas, NV
Sept 3-6 2021
1875
$2840
1.51
Experience San Diego
https://events.marriottvacationclub.com/experience-san-diego/
San Diego, CA
Sept or Oct 2021 3 nights
1200
$1784
$1.49
Elegant Dining Experiences in the Big Apple
https://events.marriottvacationclub.com/elegant-dining-experiences-in-the-big-apple/
New York City, NY
Sep/Oct/Nov/Dec 2021 3 nights
1800
$2539
$1.41
2022 Honda Classic Tournament
https://events.marriottvacationclub.com/2022-honda-classic-tournament/
Singer Island, FL
Feb 25, 2022
4 nights
3600
$5037
$1.40
Historic Charleston Weekend
https://events.marriottvacationclub.com/historic-charleston-weekend/#m_dates
Hilton Head Island, SC
Monthly to Dec 2021 3 nights
450 750 1350
Up to $1624
$3.16 – $1.05
Radio City Rockettes Christmas Spectacular
https://events.marriottvacationclub.com/radio-city-rockettes-christmas-spectacular-2/
New York City NY
Mid Nov – Dec 2021 3 nights
1800
$2250
$1.25
Los Olas Wine & Food Festival
https://events.marriottvacationclub.com/las-olas-wine-food-festival/
Ft. LauderdaleFL
Nov 17-21, 2021
4 nights
3300
$4108
$1.25
Dolphin Cruise and Culinary Weekend
https://events.marriottvacationclub.com/dolphin-cruise-and-culinary-weekend/
Hilton Head Island, SC
Sept & Oct 2021
3 nights
1200
$1450
$1.21
Carrie Underwood
https://events.marriottvacationclub.com/carrie-underwood-reflection-the-las-vegas-residency/
Las Vegas, NV
Dec 3 or 10, 2021 3 nights
3300
$3990
$1.21
Celine Dion
https://events.marriottvacationclub.com/celine-dion-the-theatre-at-resorts-world-las-vegas/
Las Vegas, NV
Nove 2021
3 nights
3300
$3990
$1.21
Usher: The Las Vegas Residency
https://events.marriottvacationclub.com/usher-the-las-vegas-residency/
Las Vegas, NV
Dec 28-31 2021
3 nights
2700
$3040
1.13
Luxury and Glamour at the Breakers
https://events.marriottvacationclub.com/luxury-and-glamour-at-the-breakers/
Palm Beach, FL
May 9-12, 2022
3 nights
4200
$1947
.46
MVC Owner Events Available as of August 11, 2021