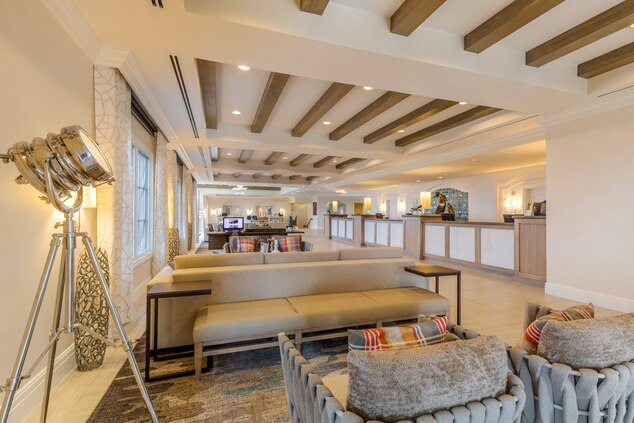 Don't expect to see this scene when you arrive to check in. Checking in at such a large resort can get chaotic around the 4:00 check-in time — no matter what day of the week it is. Even with six agents standing behind plexiglass windows all working to check in guests as quickly as possible, expect long lines with social distancing markings on the floor. Masks are not required, but all employees are wearing them inside the lobby.
A new process that Marriott is using at Newport is texting you upon checking in. If your room isn't ready yet, it tells you to enjoy the amenities and what account to charge until you are notified the villa is ready. You can also text BELL, and they will provide you someone to help you with your luggage. For anything you need during your stay at the resort, you text that same number, and they respond pretty much immediately confirming your request will be met within less than 30 minutes. I tried calling from the villa a few times and never got an answer, so texting them directly is the way to go. As I mentioned in my previous post, https://maxingmarriott.com/2021/08/04/what-to-do-before-you-arrive-at-newport-coast-villas/, the customer service at this property is the best!
The parking policy is totally adequate. For each villa, you get 1 "green" pass to display in your driver's-side window. You also get 2 additional "yellow" passes to put in any additional cars if needed, but they must park in the garage. (See resort map in previous post — linked above — to see where that is). No fees.
One recommendation I would suggest you consider is getting the MVC Miracle Band Key if you don't have one. The more I use mine, the more I LOVE it!! I never have to try and remember where I had my key last. It's always on, and very convenient to access the pool, villa, or gym. They are waterproof, and reliable. They don't cost much, AND your purchase is donated to the Children's Miracle Network. Something to check into if you like convenience. And every time I used it to get into the pool, I heard "Oh, that's cool" from the nearby guests. You can read more about it here. https://maxingmarriott.com/?s=Have+You+Seen+These.
The towel policy changes at this resort more than the weather. Currently, each villa gets 8 pool towels. There are no clean towels at any pool. You can exchange your wet towels for clean ones by texting the number from the text you received when checking in. Or, if you are like us with our large family that arrived before all the villas were ready, we "rented" towels from the front desk, and had to return them before 5:00 for no charge. Honestly, this is kind of a hassle. We never think of exchanging our towels until we are ready to go back to the pool and don't want to wait the 30 minutes to get clean ones. But housekeeping is very obliging, and if you catch them in your hallway, you can ask them to exchange towels. In our experience, they don't count how many we give them, and they give us a bag of clean towels — more than we give them.
There are no restaurants on site, but the grill at the pool makes good food, though somewhat expensive to my taste. The menu is shown below. Some of our favorites are no longer on the menu — the Poke Bowl, and the Peach Smoothie are no longer available and were some of our favorites. The Dippin' Dots were never available while we were there, much to the disappointment of our little kiddos. The chicken nachos are large and easily shareable between 2 adults.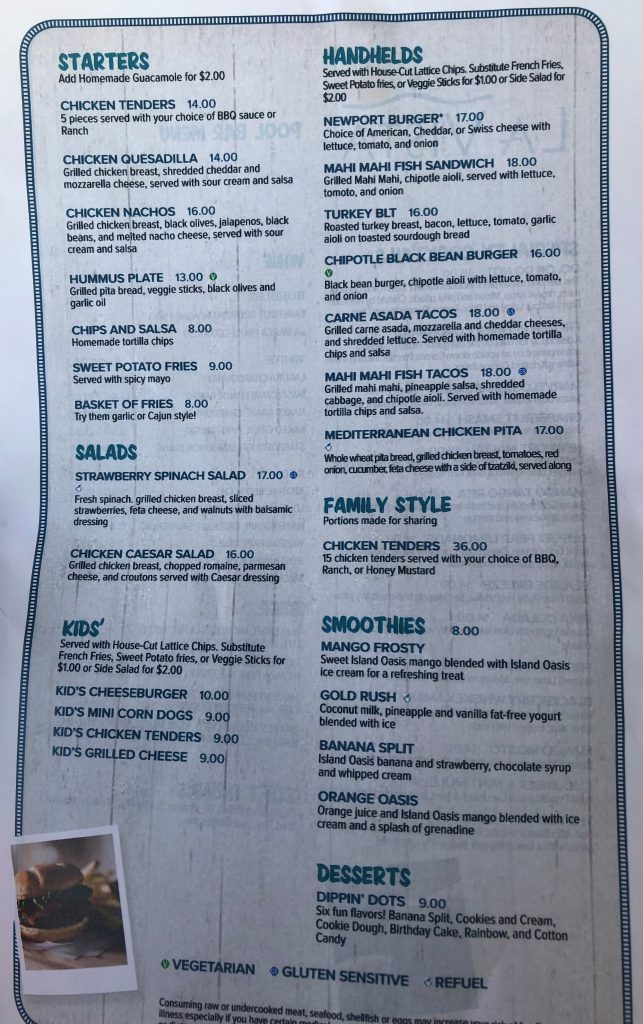 Sometime that first day, after checking in, we always make a grocery run. I really love the Pavilions. They are very close (21181 Newport Coast Dr, Newport Coast), and have a good selection. BEFORE you go there, make sure you create an account linked to your cell number. We used to be able to say we were staying at the Marriott Newport Villas and get their member discount. They have discontinued that, and you now must have your own account. And it is TOTALLY worth the hassle to get registered. The first day, our entire purchase was $19, and we saved $8 by having an account!
Because of COVID, Pavilions have begun online ordering. Save time and simplify shopping with groceries ordered at the tap of a finger and delivered to your door with Pavilions Grocery Delivery. You can now pick up your online order or get it delivered in as soon as two hours from the time you order. Use promo code SAVE20 at online checkout to receive $20 off plus free delivery on your first online order of $75 or more! Or you can try DriveUp & Go™! Simply place your order online, drive up to Pavilions, and your groceries will be loaded directly into your car. Use promo code SAVE20 at online checkout to receive $20 off on your first online order of $75 or more! (This is something our kids used and made it a real quick trip to the grocery store).
If you are traveling with a large group, we always go to Costco (27220 Heather Ridge Rd, Laguna Niguel). It is about 8 miles away, but takes about 20 minutes to get there on non-toll roads. Make sure you have your "toll roads OFF" option set on your phone. We were charged a hefty fee to use the toll road for just a mile ($17.50) — more than my frugal personality wanted to pay.
Getting around the resort is fairly easy. If your villa is at the top or far right of the property, it is a walk to the pools. Marriott provides a shuttle that stops at designated places throughout the day. Just text them and let them know where you are and they will send a driver. Remember to wear your mask.
And last, but not least, our 3-5 year-old children's FAVORITE activity while we are here — riding the trolley to the beach! They are big fans of "Daniel Tiger" and this trolley is just like the one on TV. They truly LOVE riding it, and we have joked that when they are getting tired, we should just ride with them on the trolley as it goes back and forth, back and forth, without getting off. By the way, masks are required while riding the trolley. The trolley runs continuously from 8:30 am to 7:00 pm.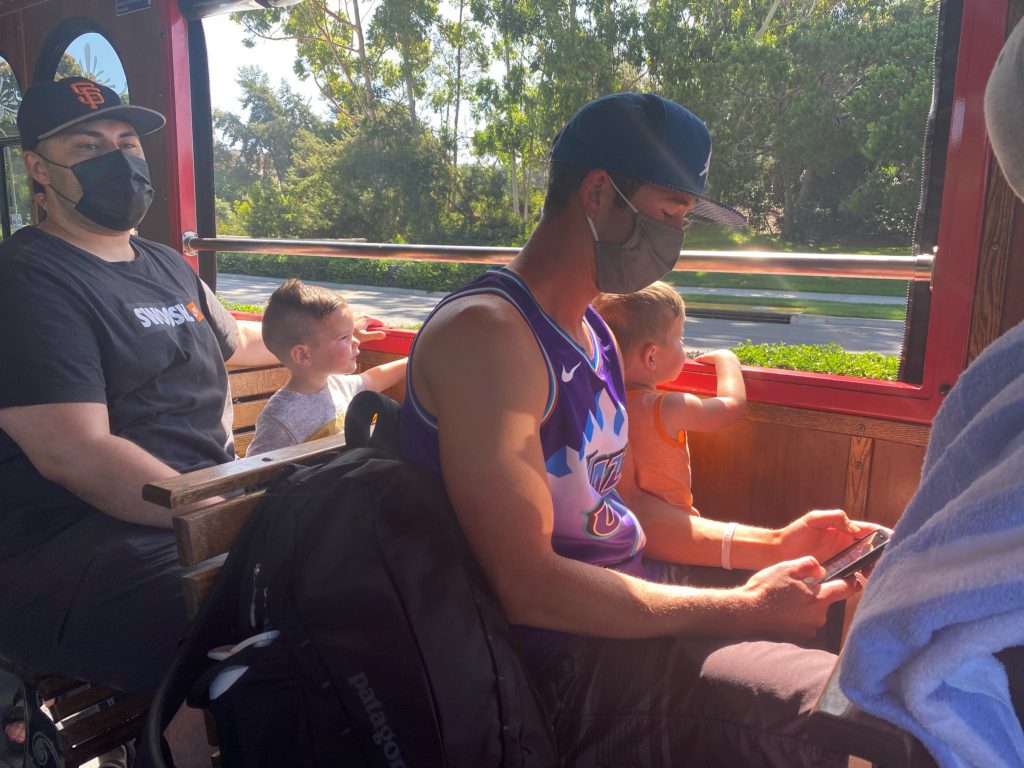 If you a lot of beach supplies you are taking, you should drive to the beach — it's free if you are just dropping off or picking up. Then you have a short walk past the Beachcomber's Restaurant onto the beach, and don't have to lug around heavy bags or chairs on the trolley. The driver of the car can return to the resort and ride the trolley back to the beach to join the rest of the group!!