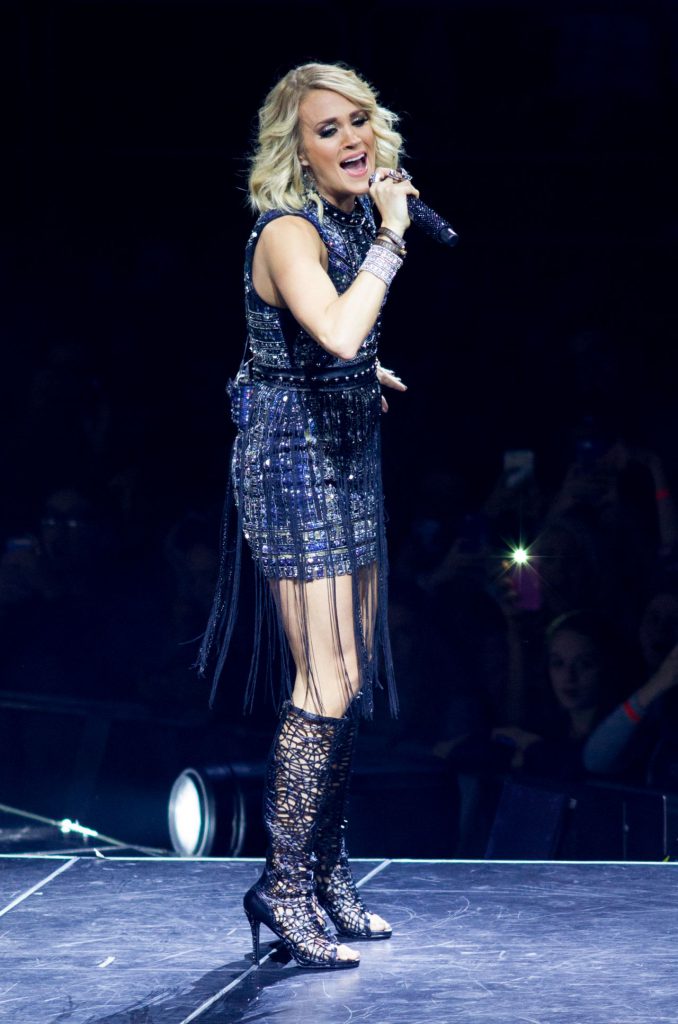 New Owner Events have been posted, and 2 of them will be going down fast! Almost all of the music tour concerts sell out very quickly, and with the announcement of Carrie Underwood tickets as a new Owner Event, if you want to do this one, don't wait. The event will be December 3 OR December 10, 2021 for 3 nights, staying at the Grand Chateau (one of my favorite properties). Having amazing seats at the concert isn't the only adventure you will have — how about a helicopter tour of Las Vegas at night, and an amazing dinner at Caesar's Palace — all included in the package when you register. It is 3300 MVC points, and the retail value is $3990.00 — not a bad deal at all.
Another new event announced is a better deal, and would make some golfer's dreams come true. Think ViP treatment with this package — Dinner at Legends Club in Nicklaus Village, complete with fireworks. VIP treatment at the PGA 2022 Honda Classic Tournament, including gourmet buffets, drinks, snacks, viewing areas –– you get the idea? This is the longest Owner Event with 4 nights at Marriott's Ocean Pointe checking in on February 25, 2022. It takes 3600 MVC points, but the retail value is a whopping $5037 — a very good deal. If you are a golfer, you should look into doing this.
Below is the updated chart of all current Owner Events, listed in order of value for the MVC points required — I included a direct link for your convenience. Some previous "SOLD OUT" events had more dates added, and I included them as well. I'm guessing within a few days, I'll be showing these new two Owner Events Sold Out.
Name
Location
Date
MVC Points Needed
Retail Value
MVC Point Value
Concours d'Elegance
https://events.marriottvacationclub.com/concours-delegance-2/
Hilton Head, SC
Nov 6-9, 2021
3 nights
1200
$2902
$2.42
Culinary Weekend Tour
https://events.marriottvacationclub.com/culinary-weekend-getaways-2/
Hilton Head, SC
Nov-Dec, 2021
3 nights
600
$1410
$2.35
Island Wine & Food Festival
https://events.marriottvacationclub.com/hilton-head-island-wine-food-festival/
Hilton Head, SC
Sep 17-20 2021
3 nights
1500
$2511
$1.67
Maluma World Tour
https://events.marriottvacationclub.com/maluma-papi-juancho-tour/
Las Vegas, NV
Sept 3-6 2021
1875
$2840
1.51
Experience San Diego
https://events.marriottvacationclub.com/experience-san-diego/
San Diego, CA
Sept or Oct 2021
3 nights
1200
$1784
$1.49
Chicago Live SOLD OUT
Las Vegas, NV
Sep 17-20 2021
3 nights
1875
$2640
$1.41
Elegant Dining Experiences in the Big Apple
https://events.marriottvacationclub.com/elegant-dining-experiences-in-the-big-apple/
New York City, NY
Sep/Oct/Nov/Dec 2021 3 nights
1800
$2539
$1.41
2022 Honda Classic Tournament
https://events.marriottvacationclub.com/2022-honda-classic-tournament/
Singer Island, FL
Feb 25, 2022
4 nights
3600
$5037
$1.40
Enrique Iglesisas Rickey Martin SOLD OUT
Las Vegas, NV
Sep 24-27 2021
3 nights
2250
$3040
$1.35
Sting SOLD OUT
Las Vegas, NV
Oct 29-Nov 1
3 nights
2250
$3040
$1.35
Historic Charleston Weekend
https://events.marriottvacationclub.com/historic-charleston-weekend/#m_dates
Hilton Head Island, SC
Monthly to Dec 2021 3 nights
450 750 1350
Up to $1624
$3.16 – $1.05
Dolphin Cruise and Culinary Weekend
https://events.marriottvacationclub.com/dolphin-cruise-and-culinary-weekend/
Hilton Head Island, SC
Sept & Oct 2021
3 nights
1200
$1450
$1.21
Carrie Underwood
https://events.marriottvacationclub.com/carrie-underwood-reflection-the-las-vegas-residency/
Las Vegas, NV
Dec 3 or 10, 2021 3 nights
3300
$3990
$1.21
Celine Dion: Courage World Tour
https://events.marriottvacationclub.com/celine-dion-courage-world-tour-3/
San Francisco, CA
Sept 2-5, 2021
3 nights
3000
$3465
$1.16
Eagles – Hotel California SOLD OUT
San Francisco, CA
Oct 22-25, 2021
3 nights
2850
$3265
1.15
Usher: The Las Vegas Residency
https://events.marriottvacationclub.com/usher-the-las-vegas-residency/
Las Vegas, NV
Dec 28-31 2021
3 nights
2700
$3040
1.13
An Evening With Michael Bublé SOLD OUT
San Francisco, CA
Sept 28-Oct 1, 2021 3 nights
3450
$3655
1.06
"Immersive Van Gogh" & Culinary Experiences
https://events.marriottvacationclub.com/immersive-van-gogh-and-culinary-experiences/
San Francisco, CA
Aug 6-9, 2021
3 nights
1800
$1750
1.03
Epcot International Food & Wine Festival SOLD OUT
Orlando, FL
Sept 13-16, 2021
3 nights
2100
$2074
.99
South Beach Seafood VIP Experience SOLD OUT
Miami Beach, FL
Oct 22-25, 2021
3 nights
3000
$2922
.97
Andrea Bocelli: Believe World Tour SOLD OUT
Fort Lauderdale FL
Dec 17-20, 2021
3 nights
3900
$3246
.83
Luxury and Glamour at the Breakers SOLD OUT
Palm Beach, FL
11/19-22 12/15/22
4200
$1947
.46