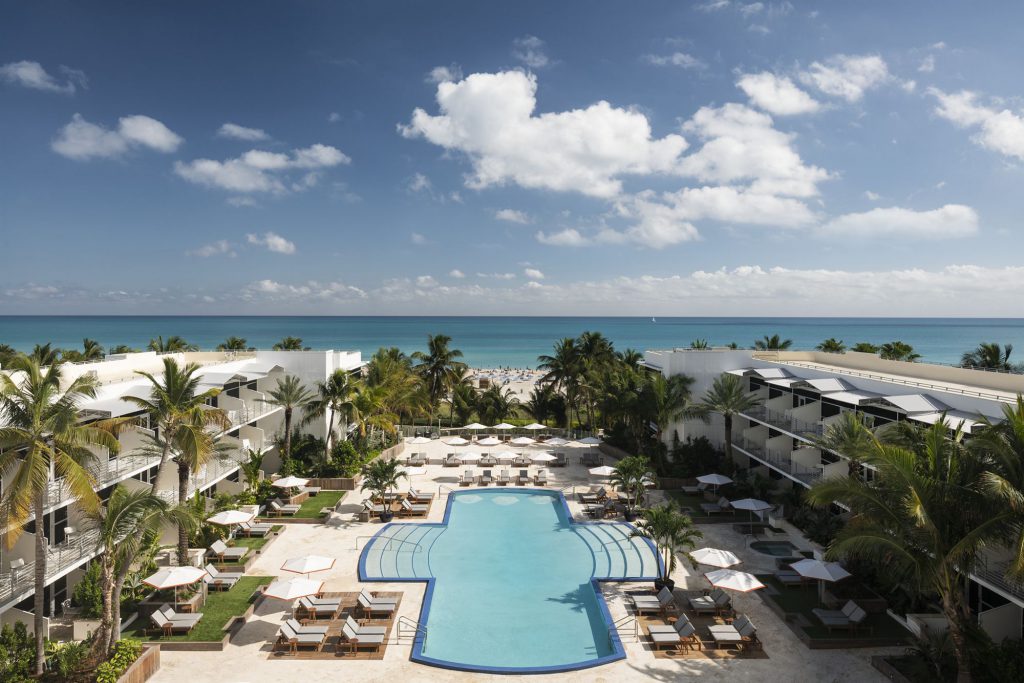 The newest Owner Event has been announced. Just looking at this property makes me think this will be awesome! This is the only Owner Event so far where you are staying at a Ritz — and it looks AMAZING! South Beach Seafood VIP Experience is the newest Owner Event just announced and will be held October 22-25, 2021 at the Ritz-Carlton, South Beach, FL.
After checking in, you will dine at the famous Joe's Stone Crab Restaurant. Marriott has arranged a private dining room where you will enjoy fresh seafood, steaks, and more. Then head back to get a good night's sleep before you begin your adventure at the "South Beach Seafood Festival". From fish tacos and fresh oysters to ceviche and more, this unique food festival showcases some of South Florida's leading chefs and culinary artists. Explore dozens of pop-up cafes from Miami's best restaurants and over 30 open bars. Learn expert tips during culinary demonstrations. And enjoy the energetic sounds of South Beach with live music. Plus, as part of this exclusive event for Marriott Vacation Club® Owners, you can relax and enjoy the festival from the privacy of a VIP hospitality tent. You can get more information about this festival at https://www.everfest.com/e/south-beach-seafood-festival-miami-beach-fl.
The next day will be your 90-minute Sales Presentation, and the rest of the day is yours to do as you wish. (How about sitting at that BEAUTIFUL pool?) Check out is the following day on Oct. 25th.
OKAY, now you know WHAT the event is. The next question is — IS IT A GOOD DEAL? If you look at the numbers, it is NOT a great deal. It takes 3000 MVC points to attend this event, and the Retail Value is listed at $2922. I'm personally tempted to reserve a room at this property, and save the points by not going to the Owner Event — you know me "Maxing my Marriott Points"! Get more information about this event at https://events.marriottvacationclub.com/south-beach-seafood-vip-experience/.
Since there are quite a few Owner Events available right now, and it has been a while since any of them were REALLY great deals, I have included a table giving you all the information for you to quickly browse and compare. It's interesting — to say the least.
| | | | | | |
| --- | --- | --- | --- | --- | --- |
| Name | Location | Date | MVC Points Needed | Retail Value | MVC Point Value |
| Concours d'Elegance | Hilton Head SC | Nov 6-9, 2021 3 nights | 1200 | $2902 | $2.42 |
| Island Wine & Food Festival | Hilton Head SC | Sep 17-20 2021 3 nights | 1200 | $2511 | $2.09 |
| Maluma World Tour | Las Vegas | Sept 3-6 2021 | 1875 | $2840 | 1.51 |
| Experience San Diego | San Diego, CA | June/July/Aug 3 nights | 1200 | $1784 | $1.49 |
| Chicago Live | Las Vegas, NV | Sep 17-20 2021 3 nights | 1875 | $2640 | $1.41 |
| Enrique Iglesisas Rickey Martin | Las Vegas, NV | Sep 24-27 2021 3 nights | 2250 | $3040 | $1.35 |
| Sting | Las Vegas NV | Oct 29-Nov 1 3 nights | 2250 | $3040 | $1.35 |
| Usher | Las Vegas NV | July 23-26 2021 3 nights | 2700 | $3040 | 1.13 |
| "Immersive Van Gogh" & Culinary Experiences | San Francisco, CA | Aug 6-9, 2021 3 nights | 1800 | $1750 | 1.03 |
| Epcot International Food & Wine Festival | Orlando, FL | Sept 13-16, 2021 3 nights | 2100 | $2074 | .99 |
| South Beach Seafood VIP Experience | Miami Beach, FL | Oct 22-25, 2021 3 nights | 3000 | $2922 | .97 |
| Luxury and Glamour at the Breakers | Palm Beach, FL | 11/19-22 12/15/22 | 4200 | $1947 | .46 |