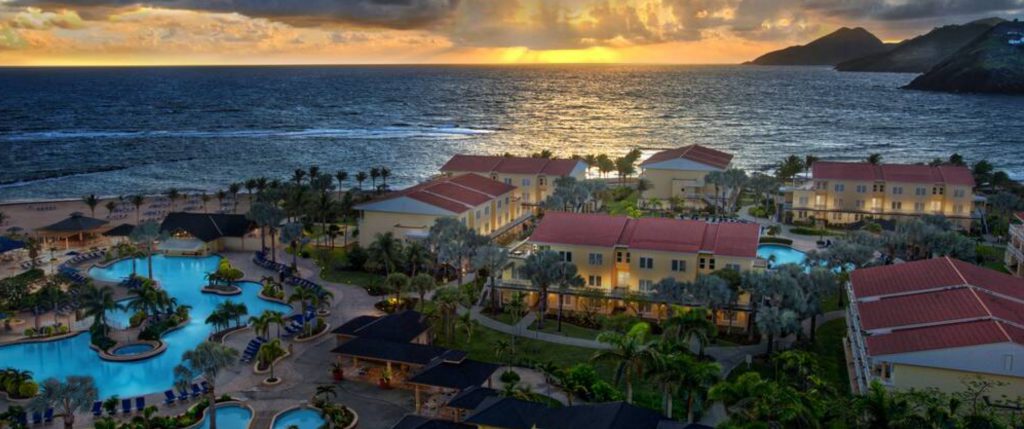 Usually at the end of each month, Marriott opens up a whole set of MVC properties with big discounts under the Destinations Escapes program. They are typically properties that are seeing lower than expected reservations, and it is a way to amp up their occupancy with tempting low points. But for this month, April 2021, only TWO properties are available with these discounts through Destination Escapes — St. Kitts Beach Club (image above), and Grande Chateau in Las Vegas, NV. Two — dos — zwei — dois — however you want to say it — is all there is. And they are BOTH for the first two weeks of May. None in June, which would typically be posted now.
What does that mean? Well, if you want a great value of using your points, you would scramble to get the deal to St. Kitts for 7 nights in a 2 bedroom for only 1260 MVC points — that's INSANE!!! Or if a little closer to home is appealing and you can work it out, go to Vegas in a 1 bedroom villa for only 360 MVC for 3 nights. Another amazing deal!! Three, four or 7 nights are available at both these properties.
It also means that everyone is out trying to use their points that they didn't use last year. I'm anticipating it will be "crowded" with little availability during the summer. If you don't usually plan ahead very far, you might want to consider changing your ways.
Remember, when reserving a Destination Escapes discount, you must call Owner Services and tell them. You can't reserve it online.