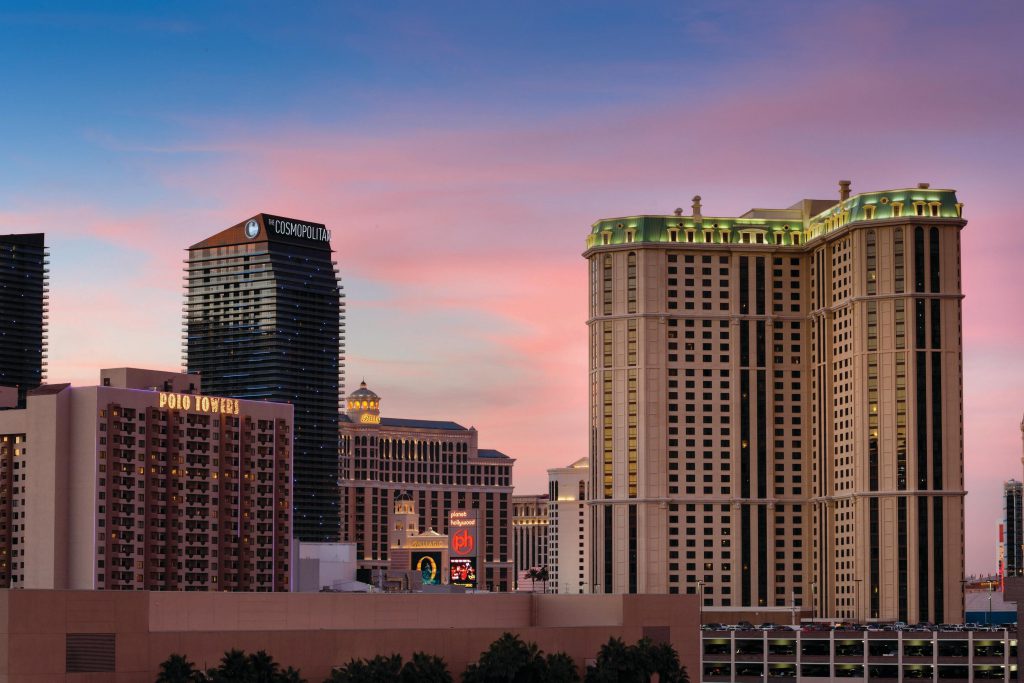 Last post I explained in detail the AMAZING deal to go to the Kauai Lagoons – Kalanipu'u with the Destination Escapes for March and why you might NOT want to do that — (you can access that here https://maxingmarriott.com/2021/01/30/staying-a-week-in-kauai-lagoons-kalanepuu-2-bedroom-for-only-1260-mvc-points-are-you-kidding-me/) . But I didn't mention any of the other four resorts that are also an option with the Destination Escapes discounts. Some of these are really good, and won't last long — others, don't do it!
Marriott's Grand Chateau in Las Vegas is the best "reasonable" deal for March (Kauai is the BEST deal, but because of the current COVID restrictions as explained in the previous post, for me that is not a viable option). Yes, they have the typical social distance rules in Vegas — masks, no housekeeping, no hot tubs, etc. — but most of the amenities are a go including their fitness center. To stay in a 1-bedroom, 4 nights would only be 480 MVC points!!! That's a great deal! Options to stay 3-nights, 4-nights, or 7-nights in a Guest Room, 1-bedroom, or 2-bedroom are available with points ranging from 180 – 1260 MVC points. This property is a great place to go in March. The weather is mild. Vegas has been known to be the most popular destination in March for the "March madness" basketball games.
Marriott's Grande Vista in Orlando, Florida. This is our "go-to" property when going to Walt Disney World with the family. It's fairly close to WDW, and the resort is beautiful with an amazing pool that the kids can't wait to swim in. Heck, we're headed here this year!! Same options as the Grand Chateau — 3-nights, 4-nights or 7-nights in a Guest Room, 1-bedroom, or 2-bedroom are available with points ranging from 180 – 1260 MVC points. A full week in a 2-bedroom villa would only be 1260 MVC points! Florida is doing a great job, in my opinion, on opening up during COVID. If your schedule is flexible, this would be a great way to spend only a few MVC points to have a really great vacation.
There are two other properties available in using the Destination Escapes discounts. But not as good a deal as the those I've already highlighted, and in some ways worse than a normal reservation. Marriott's Villas at Doral in Miami, FL is another option. They only have 2-bedroom villas and can be reserved for 3, 4 or 7-nights using only 540, 720, or 1260 MVC points respectively. Only consider doing this IF you are staying the full 7 nights. Even then, you would only save 315 MVC points. And if you stayed only 3 or 4 nights, you would actually use MORE MVC points if you used the Escapes discount over just reserving through the normal process. A great example of checking (or reading my blog) — just because it is listed as a Destination Escapes deal, it might not be a good option.
Marriott's Fairway Villas in Absecon, NJ is the only other option, and is the same situation as Villas at Doral — you save only 315 MVC points if you stay a full week in their 2-bedroom villas (only villa option). And if you stay only 3 or 4 nights, you use MORE MVC points, so don't do that for sure.
Remember, don't book Destinations Escapes online to get this deal. You must call MVC directly at the appropriate number as listed on the Destinations Escapes tab (located under the Destinations tab on the main webpage — the phone number depends on the type of owner you are, and the location of your property.
Photo courtesy of Marriott's Grand Chateau