Park City has gotten some early snow storms and more are on the way. As of Nov 8, they already have received over 7 inches of snow, and it's supposed to snow all week!!!! That doesn't include the base already being added to by the snow-making machines. It should be a VERY good early ski season in Utah. So the fact that you could stay for ONE WEEK in a guest room at Marriott's Park City Summit Watch checking in on Dec. 11 for only 420 points — well you better run to get this deal — it won't last long. It's a getaway, so reserving is a little different — you must contact Owner Services at 888-MVC-4VOA (888-682-4862) and can't reserve online. Also a new change this year skiing at the Park City Mountain Resort is that you must make reservations the day you go. You do that by going to http://parkcitymountain.com. You don't need reservations to ski at nearby Deer Valley Mountain Resort.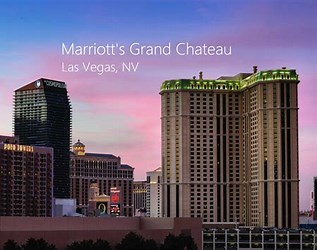 Another great getaway deal available right now is Marriott's Grand Chateau in Las Vegas. They recently announced they were going into the next phase of opening up their city with more shows, concerts, etc. available. You could have a very fun getaway checking into a guestroom on Dec 11 for 3 nights for only 180 points!!! Some of the shows open that weekend are Shania Twain and David Copperfield, not to mention the many Cirque du Soleil shows, comedy shows, etc.
There are other getaway options, — both places and dates — if you are interested in going to Orlando or Miami which you can access at Marriott Vacation Club Destinations Escapes on the website. I've had some owners ask how to get to the website. Below is a visual of how to get to the website.