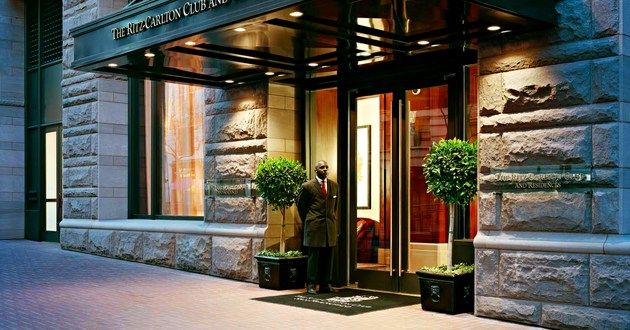 I have made five trips since COVID-19 hit, and even though all of them showed some affects of reduced restaurants and activities available, none of them was as drastically limited as my trip to San Francisco. I'll get into much more detail of just what is and isn't open — needless to say that I really enjoyed myself. And a good reason for that was my stay at the Ritz-Carlton Club and Residences.
First let me explain the difference between the Ritz-Carlton Hotel and the Ritz-Carlton Club and Residences. The Ritz-Carlton Club villas are available only to MVC owners for 1, 2, or 3 bedroom villas with most of their villas being occupied by residents living there. The Ritz-Carlton hotel is a separate building and has the typical hotel layout — smaller with no kitchens but still very luxurious. The Ritz hotel is currently closed because of COVID, as is the Marriott San Francisco Pulse property for MVC owners. The Ritz-Carlton Club is the only MVC property open for Marriott owners in San Francisco currently.
Believe it or not, the BEST time to go to San Francisco is October — it is one of the most warmest and dryest months they have. I know, I had a hard time believing it, too. But it was in the low 70's the whole time we were there and it was the last week of October — the weather couldn't have been more perfect!
Before you go, you will receive an email from the Ritz explaining where to go when you arrive. Pay close attention to your instructions, as the address of the garage is different from the actual property address on your GPS. Although the Ritz website states parking has a fee, it is waived for 1 car for Marriott owners. When you arrive at the address sent in the email, you must call the number given, and they will open the garage. There you will drive to the Valet office where they handle everything from that point.
The people working at the Ritz are some of the best I've dealt with anywhere. They are so courteous and seem very happy to do anything that is needed — maybe because things are quite slow for them?? I don't know about that, but I do know that even though we had to have the valet bring up things left in our car a number of times, he was so prompt and gracious. Likewise, before we arrived we called the property asking questions of what was open and what they recommended we do. Within an hour of the phone call, Francis Llamas, who answered our call, had sent us a suggested itinerary with reservations to museums, a restaurant, and recommendations of other activities and restaurants for us to consider. We followed it as close as possible and it was the best!!! It makes you feel good when your Uber driver tells you that the restaurant he is driving you to is his favorite and "a wise man recommended it"!!! And that happened more than once.
The villas available for MVC owners are located on floors 1 through 12, and very beautiful and large. We stayed in a 2-bedroom and the concierge said it was about 2,000 sq. feet. Reflecting back on my trip, the things we did was fun, the food was amazing, but truly what made this AWESOME was the property we stayed at.