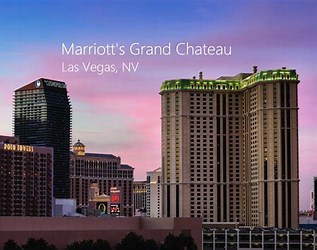 MVC has had the Grand Chateau in Las Vegas on their Destinations Escapes website for a little while now, but I waited to post about it until the weather cooled a bit, and their shows and activities started opening up more from the affects of COVID. It's a great deal, as all Escapes are, and you can get a Studio or 1-bedroom for a fraction of the usual points. I traveled here in July. I really like the resort, though at that time the pool on the top of the building wasn't open. And the temperature was 119 degrees! Yah, that wasn't a typo — 119 degrees!!!! The good thing about this resort is the location is right across the street from a sprawling indoor mall, and once you get inside, the temps don't affect you.
It looks like many of the shows are starting up October 1st, with David Copperfield being one of them — I've always wanted to see him in a show. Temps will be much more appealing in October — averaging just above 80 degrees. Check it out. If you can get there, you will be glad you did, and save a lot of points doing it!!!
If you can't remember how to reserve a resort on the Escapes website, it's "tucked way" under the Destinations tab on the MVC website. It's listed under the Points category. Make sure you read the instructions on how to reserve it. Then do a little happy dance and start having wonderful dreams.